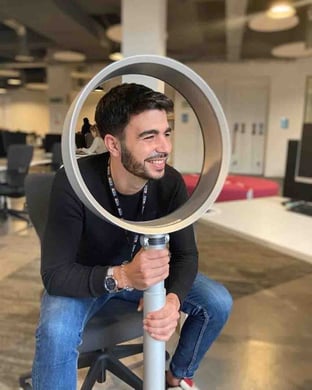 Welcome to our new Employee Interview series focusing on our CPM contact centre employees and their career progressions.
Bonjour Maxime! What´s new in your life?
Well, the big news in my life is I'm moving to Slovakia!
Dobrý deň! Where in Slovakia and Why?
CPM are expanding and opening a brand-new contact centre in Bratislava and I will be the site lead! Our business is growing, it´s exciting times!
What do you know about Slovakia
Not too much yet! (laughs) so I am very curious to learn about the new culture and to explore the famous Tatra Mountains!
What kind of talent are you looking to attract to the new office in Bratislava?
Motivated, enthusiastic individuals who are people-passionate and want to achieve.
Tell me a bit about your own career progression at CPM?
Well, I joined CPM in 2017 as a Customer Service Agent in Barcelona. I was fortunate to be working for our client Dyson. This was important to me as Dyson deliver premium quality products and service.
I was promoted to Lead agent later that year and in March 2018 I became a Team Manager. This was my first managerial role. In 2019 I was promoted again to Ops Manager for the French market. I learned so much in that role. It was an amazing experience. And then, in 2020 I was promoted to Head of Operations for the North European Market.
What keeps you at CPM?
Quite simply, I feel valued and respected at CPM. The company cares about their employees, and they have taken the time to nurture my career. I have been fortunate with my advancement within the company. This keeps me focused and motivated.
What three words describe CPM for you?
Family, values and recognition.
What do you like to do in your spare time?
Well actually…. (laughs) I have recently started collecting miniature decorative antique boxes if you must know!
Is there anything you would like to say to your new colleagues in Bratislava ?
I am so looking forward to meeting everyone in our beautiful new offices. I can't wait to meet the new team!
Discover the latest career opportunities at our Slovakia contact centre hub: CPM Careers.