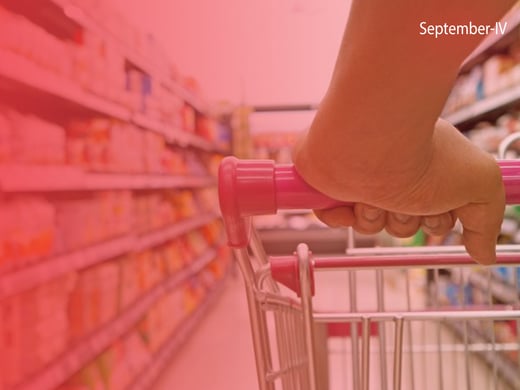 E-commerce has received a tremendous boost due to the pandemic. But, to leverage this opportunity, brands need to adapt to the dynamics of the industry, consumer demands, socio-economic factors, influence of technology, and so on. Let us go through this week's "Indian Retail at a Glance" to see how retail scored in the past week.
With India and Indians opening up, food companies see demand drop
Leading food companies are facing a reversal of the record high demand between April and June when most Indians hunkered down in their homes due to coronavirus-related restrictions as sales growth tapered from August.
CLICK HERE TO READ MORE
How brands are helping customers navigate the new world
Marketing chiefs from some of the country's biggest and buzziest brands discuss the behavioural changes in modern consumers; how brands are helping their customers navigate the new world; and what happens when empathy is infused in customer experiences in the digital world.
CLICK HERE TO READ MORE
Appliances, consumer electronics industry hopeful of robust sales this festive season
The appliances and consumer electronics industry is expecting double-digit growth in sales in the upcoming festive season, which will be further supported by absence of domestic helps and people working from home.
CLICK HERE TO READ MORE
Retail industry to witness transformation due to tech disruptions, data-led opportunities
The role of offline stores is likely to change, focusing on experience and collection. Consumers, to avoid crowds, would prefer to 'buy and pay online, maybe pick-up in-store.
CLICK HERE TO READ MORE
According to HUL, Indian economy can touch $10 trillion in next 15 years
Talking about the FMCG segment, HUL said the severity of the lockdown which was faced by urban India did not percolate down to the rural areas.
CLICK HERE TO READ MORE
Consumers seek value offerings in crisis
Six months after India went into a lockdown, consumer behaviour has undergone a radical change. Shoppers are snapping up health, hygiene and immunity products and seeking more value for money as they turn frugal about household expenses.
CLICK HERE TO READ MORE
Amazon sees discretionary spending coming back for festivals
While electronics will continue to dominate in terms of value of products sold during the festive season, Amazon expects to see a resurgence in demand for fashion, home and kitchen products and large appliances.
CLICK HERE TO READ MORE
Survey finds impact of Covid-19 on TN rural people's consumption
The pandemic has caused consumers to put price and immediate availability before the brand. Personal care is one segment where consumers continue to display brand loyalty even in these testing times.
CLICK HERE TO READ MORE
What Dabur, Marico, ITC, others are selling most; packaged food, edible oil demand soars in lockdown
FMCG players are banking on the upcoming festive season for a growth revival. Festive demand is expected to be strong, with pent-up demand supporting the festive season offtake.
CLICK HERE TO READ MORE
E-tailers may log record $7 billion festive month sales
With Covid-19 accelerating digital adoption and traditional offline shoppers moving online, the festive season is expected to see an over 70% jump in consumers with 45-50 million digital buyers.
CLICK HERE TO READ MORE