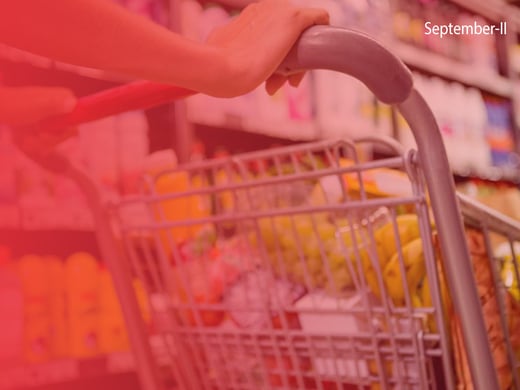 As the Unlock 4.0 progresses, retailers remain unsure of the sales during the festive season as people are still not comfortable to step out of their homes due to the ongoing pandemic. While there are mergers & tie-ups happening between the major players, industry is yet to see its impact. Let us go through this week's "Indian Retail at a Glance" to see how retail scored in the past week.
FMCG, corporate retail outlets among 26 sectors listed for restructuring
The panel has proposed elaborate calculation criteria based on which the RBI will prepare the final guidelines.
CLICK HERE TO READ MORE
Retailers bank on just-in-time strategy
Retailers in India have adopted a just-in-time strategy for the festive season, a departure from their 3-4 month long preparation time during Pre-Covid days.
CLICK HERE TO READ MORE
Retailers need to act global and think local post COVID-19
COVID-19 has led to a global slowdown in trade and mass reverse migration from urban centers, leaving the industry in a severe fix. CLICK HERE TO READ MORE
Festive Season Shopping: The light amidst the COVID-19 darkness
The world of retail has been innovating and creating a host of solutions to draw customers out.
CLICK HERE TO READ MORE
Battle of mergers and consolidations intensify in India's retail market
With the launch of JioMart and aggressive investments in the Jio platform by Google and Facebook, and the recently announced consolidation of Flipkart and Best Price, India's retail market is set for a massive change.
CLICK HERE TO READ MORE
Hit by pandemic, traders switch to 'kirana' stores
Left with no choice, fabric, hardware retailers opening grocery shops to eke out living.
CLICK HERE TO READ MORE
Essential commodities fuel retail revival, average bill value up 1.5x over pre-COVID-19
Amidst the pandemic-induced slowdown, essential goods will fuel Indian retail industry's growth in the coming quarters as consumer expenditure continues to remain focused on essentials, particularly food and grocery.
CLICK HERE TO READ MORE
Trim & Glow: Men beat women to salon visits
Men seem to be more eager to shed their 'lockdown' looks than women. A larger proportion of men are thronging salons, and are not restricting themselves to mere haircuts.
CLICK HERE TO READ MORE
Metro Cash & Carry to roll out 6 small-format stores focussing on kiranas
As mom-and-pop stores become the toast of the town following the Covid-19 pandemic and the lockdown, wholesale player Metro Cash & Carry is tweaking its expansion strategy by putting kiranas at the centre stage.
CLICK HERE TO READ MORE
Sanjiv Puri reshaping ITC for the new normal
ITC is banking on brand extensions across the company's entire portfolio to push profitability and maintain growth trajectory.
CLICK HERE TO READ MORE
Amul to invest Rs 1,500 crore in 2 years to set up dairy, edible oil, bakery, potato processing plants
Amul expects 12-15 per cent growth in revenue in current fiscal year from Rs 38,550 crore during the last fiscal year despite COVID-19 pandemic, as demand for branded food products has increased.
CLICK HERE TO READ MORE
Reliance-Future Group deal poses uncertainty for Choithrams & Sons' tie-up the Indian retail major
Uncertainty looms over the Middle East's leading supermarket chain T Choithrams & Sons' marketing tie-up with India's Future Group, after the recent acquisition of the FMCG major's retail and wholesale businesses by a subsidiary of Mukesh Ambani-led Reliance Group. CLICK HERE TO READ MORE
Bigbasket releases insights on grocery buying post-Covid
During the COVID-19 pandemic, bigbasket saw an 84% increase in new customers and a 50% higher retention rate.
CLICK HERE TO READ MORE
Flipkart Wholesale starts ops to serve kiranas, MSMEs
Flipkart Wholesale also aims to expand to 20 more cities and add categories such as home & kitchen appliances and grocery by the end of this year.
CLICK HERE TO READ MORE
Fireside Ventures eyes more investment opportunities in consumption space, says FMCG sector is only going to get bigger
With COVID-19 putting the spotlight on the consumption sector, venture capitalists are on the prowl.
CLICK HERE TO READ MORE