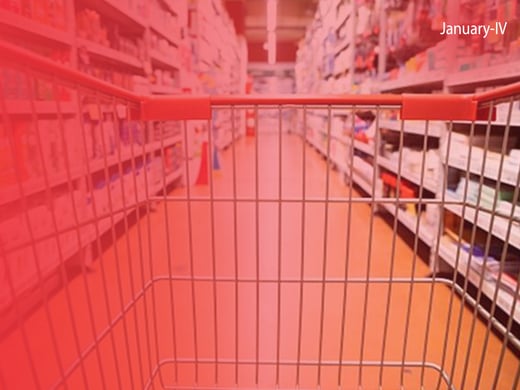 With the Covid-19 pandemic causing severe disruptions and challenges to the way of life, this edition of "Indian Retail at a Glance" talks about the revival of businesses across sectors & how the increasing demand of going digital is impacting retail. Let us go through this week's "Indian Retail at a Glance" to understand how retail scored in the past week.
Crisis Brings Innovations: FMCG Industry Outlook In 2021
Food and beverage categories, particularly perishables, saw strong growth as consumers increased their monthly budget allocation for in-home food and beverages.
CLICK HERE TO READ MORE
How B2B E-commerce Players are Digitizing Kiranas in India
India will continue to be a kirana dominated market. COVID-19 has brought kiranas the attention that their >95 percent share of India's food and grocery market rightfully merits.
CLICK HERE TO READ MORE
Domestic Online Grocery Market to Expand to Over $18 bn by 2024
As the e-commerce battle intensifies in India, the next big thing is the delivery of groceries online and the market size is estimated to grow eight times in the next five years in the country.
CLICK HERE TO READ MORE
Kirana Stores Are Here To Stay, And They Will Thrive In The Ecommerce Era
In the recent past, ecommerce has become the benchmark measure of innovation in retail. Empires are being built around the direct to customer value chains that e-tailers claim as theirs, in books, appliances, clothing, personal care and groceries.
CLICK HERE TO READ MORE
National Retail Policy to strengthen retail sector
The Budget 2021 holds utmost significance for the retail sector as it is expecting for some immediate provisions to set the tone for recovery while also waiting for some long standing demands to be addressed.
CLICK HERE TO READ MORE
Branded sanitizers cool off as buyers go easy on use
Demand for branded sanitizers is cooling off as consumers are using it less frequently, with coronavirus infections receding even as smaller companies are undercutting their bigger rivals with cheaper products.
CLICK HERE TO READ MORE
Indya sees up to 20% revenue coming from skincare segment in 18-24 months
Women's fashion brand Indya has forayed into the skincare segment and said it expects 15-20 per cent of its revenue to come from this category in the next 18-24 months.
CLICK HERE TO READ MORE
How Dabur is riding the new normal
The pandemic has seen the 136-year-old company reboot by fast-tracking product launches, embracing automation, upping the emphasis on e-commerce, and focussing on its health portfolio.
CLICK HERE TO READ MORE
Covid-19 boosts instant coffee consumption, instant coffee brands gain
With people confined to their homes and spending most part of the day in front of their computers, they are drowning in cups of coffee, and instant coffee makers are reaping the rewards.
CLICK HERE TO READ MORE
Retail 360° – Future of Retail
India is expected to become the world's fasted growing e-commerce market driven by robust investment in the sector and a rapid increase in the number of internet users. The growth witnessed in the FMCG sectors was also a reflection of positivity recorded in the overall macroeconomic scenario and opening of the economy and easing of lockdown restriction.
CLICK HERE TO READ MORE
India is the latest battleground for grocery retail wars
Amid the battle of the offline, the online, and the online-offline players in India and the millions of local kirana stories, the war in India's grocery sector is afoot and will witness unprecedented movement in 2021.
CLICK HERE TO READ MORE