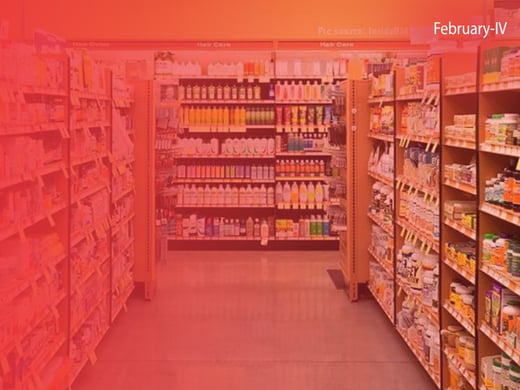 E-commerce is constantly booming as the pandemic has changed consumer behaviour and there will be further changes in their wants and needs in the months ahead. With so many changes in strategies & alterations taking place, let us go through this week's "Indian Retail at a Glance" to understand how retail fared in the past week.
Retail Trendspotting: Which pandemic trends are likely to stick in 2021?
Brands have always been sensitive to the #emergingtrends, what consumers will do and thus what brands should do is a question of increasing importance. Here is an insightful read on which pandemic trends are likely to stick in 2021.
CLICK HERE TO READ MORE
Consumer confidence among urban Indians improves slightly in February
Consumer confidence among urban Indians has moved up slightly, by 0.9 percentage point, in February so far, according to a survey.
CLICK HERE TO READ MORE
FMCG industry grows 7.3 pc in Oct-Dec, rural sales up 14.2 pc
The FMCG industry in India has recorded a value growth of 7.3 percent in October-December quarter helped by consumption-led recovery during the festive period and increase in sales from traditional as well as organised trade.
CLICK HERE TO READ MORE
Impact Of Budget 2021 On The FMCG Sector
COVID-19 has had a huge and significant impact on FMCG sector where it not only changed consumer behaviour, but also made all the FMCG companies re-invent their strategies for customer acquisition, retention and value propositions.
CLICK HERE TO READ MORE
Over 1 million kirana stores went digital during COVID-19 pandemic in 2020
The COVID-19 pandemic has made the kirana store digitisation a reality. With social distancing becoming the norm and consumers not wanting to step out of their homes, the ubiquitous neighbourhood kirana store owner not just delivered products at the consumer's doorstep but also made his merchandise available to her through his app.
CLICK HERE TO READ MORE
Covid-19 helped India's FMCG companies sell more. Still, there is no outpouring of investor love
Indian consumer staples companies saw business boom during the Covid-19 pandemic. As consumers stayed home, they ate more biscuits, used more dishwashing gel and soap, and applied more disinfectants. The net result was volume and revenue growth that surprised even the most optimistic of earnings estimates made before the pandemic.
CLICK HERE TO READ MORE
Tax reduction, rural development to give new boost to FMCG Industry
Industry experts feel that the special mention of rural development facilities will fuel growth in the struggling rural economy, where FMCG growth has slowed down. The FMCG sector has been the fourth largest sector of the Indian economy.
CLICK HERE TO READ MORE
Tata-BigBasket deal comes as online grocery sales pick pace
News of Tata group picking up a stake in online grocery retailer BigBasket comes at an opportune time when grocery sales online have seen a significant jump in the past three quarters as numbers reported by large FMCG companies in their quarterly earnings indicate.
CLICK HERE TO READ MORE
Instant coffee is the biggest and fastest-growing segments, according to Tata Consumer Products
The instant coffee segment is the biggest and the fastest growing of them all. More people are looking for better coffee at their convenience. The coffee segment is roughly worth around Rs 250 crore, where instant coffee offers the largest pie of the market.
CLICK HERE TO READ MORE
Mamaearth Eyes Presence in Over 100 cities by End of 2021
In a short span of 4 years, it has created a product portfolio of 120+ products packed with goodness inside, has reached over 2.5 million customers in 500 Indian cities, and is the fastest-growing FMCG start-up to hit 300 crore run rate in India.
CLICK HERE TO READ MORE