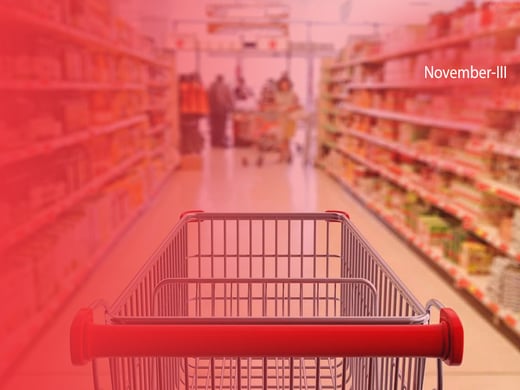 With Indian Festive season coming to an end, Indian Retailers have reported a year-on-year growth in sales in October 2021 keeping the hopes alive that we have now entered post pandemic era. Fast-moving consumer goods, paints, consumer durables and cement are some examples of sectors where companies saw severe gross and operating margin compression in the Sept quarter earnings, overshadowing robust volumes aided by gradual demand revival. This edition of "Indian Retail at a glance Glance" highlights the influence of Festive season on Sales and the products where the price hike is expected due to costlier packaging material and freight.
Festive sales lift FMCG growth to 21% in October
India's consumer goods market grew 21% in October from a year ago, helped by higher sales of packaged food, commodities and discretionary categories as the home care segment slowed.
CLICK HERE TO READ MORE
Festival Sales aid FMCG, construction and Retail sector top job growth in October 2021
The ongoing festive phase and complete reopening of markets, retail centres and workspaces triggered the Retail, FMCG and Construction sectors to post maximum talent demand in October 2021, a TimesJobs RecruiteX survey has shown.
CLICK HERE TO READ MORE
From matchbox to pizza, these products are set to get dearer.
From matchbox to dining out, everything is set to get dearer. Rising input costs are forcing companies across sectors such as food, cement and FMCG to increase prices. High commodity prices, logistics costs and inflation are escalating costs of raw materials and remain a cause of concern for these industries.
CLICK HERE TO READ MORE
India Inc may soon pass on the higher input cost burden to customers
The second-quarter result showed that India Inc is struggling to boost its margins amid rising inflation. However, they have managed to report decent top line and bottom-line numbers during the quarter. Low base coupled with cost-cutting measures and passing on higher input cost amid rising inflation aided financial results during the quarter gone by.
CLICK HERE TO READ MORE
Including tobacco products under food illegal: Traders
The Telangana high court on Monday reserved its judgment in a batch of petitions filed by traders of gutkha, khaini and other tobacco products, challenging the ban imposed by the state on their production, transport, storage and sale.
CLICK HERE TO READ MORE

The stakes are high between Jeff Bezos and Mukesh Ambani in their fight over a near-bankrupt company
Two of the world's richest men, fighting over a near-bankrupt Indian retailer, have made so much noise that its board has woken up super cranky.
CLICK HERE TO READ MORE

McDonald's India partners with ITC
McDonald's India partnered with FMCG company ITC to add a differentiated fruit beverage, B Natural to its Happy Meal, which will be available across all McDonald's restaurants in South and West India, primarily catering to children in the age group of 3-12 years.
CLICK HERE TO READ MORE
FMCG veteran Satyam Manohar joins Paytm as Vice President
Senior FMCG professional and Ola's top executive, Satyam Manohar, joins Paytm as Vice President.
Satyam has worked at various leadership positions with FMCGs like Marico, Kellogg's and Nivea and has several accolades to his name in business scaleup and digital transformation.
CLICK HERE TO READ MORE