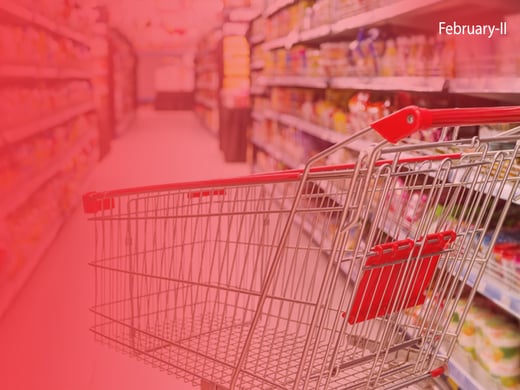 The pandemic has changed consumer behaviour to unimaginable levels and there will be further changes in their wants and needs in the months ahead. The urgency to go digital is the need of the hour & industries are leaving no stone unturned to rise & shine in future. Meanwhile, let us go through this week's "Indian Retail at a Glance" and see how retail fared in the past week.
Redefining consumer engagement in post-Covid era for FMCG brands
Brands have realised the value and importance of devising new ways of interacting with consumers. There are clear learnings on how the ongoing market conditions have impacted and shaped consumers socially and economically.
CLICK HERE TO READ MORE
Big brands lose market share to smaller brands in Bharat
Market leaders in FMCG food segments, such as, instant noodles and tea, are losing ground to smaller brands in tier-2 and tier-3 towns.
CLICK HERE TO READ MORE
FMCG cos eye launch of digital-first brands
As consumers in India's top cities spend more time shopping for groceries online, fast-moving consumer goods (FMCG) makers are accelerating the launch of digital-first brands and rolling out more online specific stock keeping units.
CLICK HERE TO READ MORE
How budget 2021 impacted your goal of buying smartphone, laptop & consumer durables
The electronic goods makers who are importing these components are likely to face higher cost of production in the coming days, and the resulting cost is likely to be passed on to the end consumer.
CLICK HERE TO READ MORE
Virtual and augmented retail: The next big thing in the world of fashionAugmented reality and virtual reality are all set to transform our shopping experience in the next few years. Starting with Korea and Japan, it's no more an unfamiliarity to see screens filled with shopping stores offering various products, nearly replicating the experience of seeing and touching the products personally.
CLICK HERE TO READ MORE
How Covid changed shopping: Floor cleaners, trimmers & gadgets became essentials
Floor cleaners witnessed a growth of 184 per cent, health/nutrition jumped by 78 per cent, personal hygiene by 70 per cent and staples by 75 per cent.
CLICK HERE TO READ MORE
DPIIT working on new e-commerce policy, says government official
The commerce and industry ministry is "definitely" working on a new e-commerce policy which will have various features such as those related to data and consumer rights.
CLICK HERE TO READ MORE
FMCG major Emami looks for acquisitions in India, internationally
FMCG major Emami Ltd is looking out for acquisitions both in India and international markets to strengthen its footprint, while also tapping at opportunities arising out the coronavirus pandemic.
CLICK HERE TO READ MORE
Godrej Consumer Q3 PAT rises 12% YoY to Rs 502 cr
On a consolidated basis, Godrej Consumer Products posted a 12.78% increase in net profit to Rs 502.08 crore on a 10% rise in total revenue from operations to Rs 3055.42 crore in Q3 FY21 over Q3 FY20.
CLICK HERE TO READ MORE
ITC on how Budget will benefit FMCG sector
The Budget has pressed the right levers to create livelihoods, to make agriculture more productive and to enhance farmer incomes and this will give a boost to consumption and benefit FMCG over a period of time.
CLICK HERE TO READ MORE
ITC constitutes 'Young Digital Innovators Lab' to drive digital transformation
ITC Ltd has constituted a 'Young Digital Innovators Lab' to drive digital transformation in the conglomerate. This will comprise digital specialists drawn from across ITC's businesses to crowdsource transformative digital strategies.
CLICK HERE TO READ MORE
Arvind Fashions has seen a structural shift in demand to online
The clothing brand is all set to expand its online business as it reduces high rents & other overhead expenses.
CLICK HERE TO READ MORE