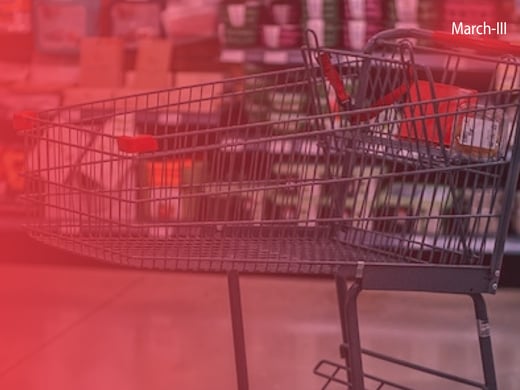 An endless demand for new skills and the growing need to leverage new-age digital-led opportunities is the need of the hour. The pandemic has accelerated changes that were already underway and triggered an essential re-think of how businesses function. Meanwhile, let us go through this week's "Indian Retail at a Glance" and see how retail fared in the past week.
Disrupting Retail and FMCG with Location Intelligence
Location intelligence at the end of today, helps you in optimising your sales speed, automating your fulfilment operations and also in the reduction of the shipping cost for distributors.
CLICK HERE TO READ MORE
FMCG firms have recovered successfully due to restructured supply chains and a digital first strategy
Most players in the FMCG space are moving to a more decentralized and localized approach so that they can move closer to the shopper.
CLICK HERE TO READ MORE
Retailers inch closer to full recovery in business in the fourth quarter
Retailers across consumer durables, food, fashion and personal care noted reduction in quantum of de-growth in sales as most segment have started to show improvement.
CLICK HERE TO READ MORE
Include retail employees in list of 'frontline workers' for COVID vaccination
Industry chamber Ficci has written to the Union Health Ministry seeking inclusion of retail industry staffers in the list of 'frontline workers' for the COVID-19 vaccination drive.
CLICK HERE TO READ MORE
FMCG cos hike prices to safeguard margins
Packaged consumer goods companies have either raised prices of products such as detergents, soaps, creams, toothpaste, edible oils and tea or are planning to do so to offset rising costs of key raw materials.
CLICK HERE TO READ MORE
According to a survey, 49% preferred e-commerce sites for shopping in the last 12 months
As per the survey, feedback indicates shopping via ecommerce sites & apps has become a habit for 33% ecommerce shoppers and their usage continues despite markets, retail stores and malls being fully functional and open.
CLICK HERE TO READ MORE
Recovering from a meltdown
After last year's washout, ice cream brands are counting on at-home consumption to drive sales this summer.
CLICK HERE TO READ MORE
80% drop in sale of masks & sanitisers
It's been a year since corona made its entry to India. Call it familiarity or fatigue, but the sale of masks and sanitisers has dropped drastically.
CLICK HERE TO READ MORE
Delhi Gets First Experiential Liquor Store
Consumers in Delhi, since long, were yearning for a one-stop destination for their beverage needs and this shall finally be answered at this all-encompassing boutique liquor store. With the launch of its first outlet in South Square Mall, Sarojini Nagar, Delhi Liquor Co. will redefine the beverage browsing and buying experience with its unparalleled and comprehensive range across categories, all hand-picked by their expert in-house team.
CLICK HERE TO READ MORE
Vivo India to open 150 new exclusive stores to drive premium smartphone market share
Smartphone brand Vivo said that it is looking to further bolster its presence in the country's fast growing premium smartphone market with the launch of upto six new smartphones, and will open up to 150 new exclusive retail stores this year.
CLICK HERE TO READ MORE
Garnier aims to stop using virgin plastic for packaging by 2025
Garnier is a mass-market cosmetics brand of French cosmetics company L'Oreal. The company would use either reusable, recyclable or compostable materials in all packaging, which will save 37,000 tonnes of plastic every year, under its sustainability programme - Garnier Green Beauty.
CLICK HERE TO READ MORE