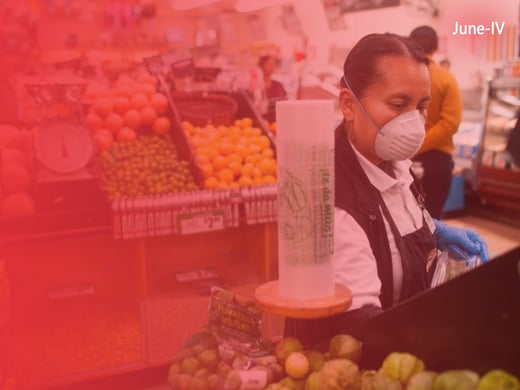 The COVID-19 pandemic continues to impact most industries and especially retail. The situation remains dynamic and amidst all the gloom there are innovations across distribution and supply chains. Brands are foraying into new segments to remain relevant and even the Kirana continue to evolve rapidly. Let us take a look into how Retail fared in the past week.
Stores Have Opened. Are Customers Shopping?
India continues to ease restrictions intended to curb the spread of the Covid-19 virus. Early indications suggest that consumption has seen a spurt as the lockdown eased but economists and company executives remain uncertain about the sustainability of that pick-up.
CLICK HERE TO READ MORE
E-commerce policy may incentivize kiranas for joining an online ecosystem
India may soon incentivize Kirana stores which become part of the e-commerce ecosystem by converting their operations to handle both online and offline sales.
CLICK HERE TO READ MORE
Consumer packaged goods companies need to reset channel strategies, says Kearney
The Indian consumer packaged goods companies (CPGs) will need to "review and reset" their channel strategies and e-commerce, which scored good growth during the lockdown will not be a game-changer, a report by Kearney, a leading global management consulting firm, said.
CLICK HERE TO READ MORE
Retailers continue to see a slump in the biz; malls see a bigger dip in sales: Survey
After the central government's announcement in early June, most states permitted malls and high street retailers to reopen. However, it was found that consumer sentiment continues to be at a low.
CLICK HERE TO READ MORE
India among 10 worst hit nations in retail and recreation; cafe, mall visits sharply fall amid lockdown
The situation for retail in the country remains dismal with almost all the states in India witnessing a slump in visits for retail and recreation-related activities in May as compared to the pre-COVID period.
CLICK HERE TO READ MORE
According to Walmart, Muted Economic Sentiment Will Move Customers Towards Value Purchase
The lockdown will fundamentally change consumer habits, and even after lifting of the complete restrictions, consumers will restrict movement to essential trips and prefer to stay indoors due to safety reasons and continue to order online and for delivery.
CLICK HERE TO READ MORE
JioMart tie-up to benefit kiranas hit by the loss of market share
As Kirana stores lose market share, a tie-up with JioMart may be a potential solution and could be beneficial for the viability of Kirana stores.
CLICK HERE TO READ MORE
How E-commerce Will Boost the FMCG Sector Post COVID-19
As COVID-19 continues to create havoc with markets, industries, and small businesses being shut, people in lockdown were abstained from buying non-essential items. Disruption of home deliveries meant that no one could buy any essential or non-essential items online.
CLICK HERE TO READ MORE
Johnson & Johnson Stops Sale Of 'Clean & Clear' Fairness Products In India Amid Criticism
Amid a debate over racial inequality mounting social pressure around the world, Johnson & Johnson has decided to stop selling fairness creams popular in Asia.
CLICK HERE TO READ MORE
COVID-19 impact | Emami to foray into personal hygiene segment under flagship brand Boroplus
The company also said it wishes to transform Boroplus, which is largely a winter skincare product, to an all-year brand with a new range of soap and hand wash, thus reducing the company's dependence on seasonality.
CLICK HERE TO READ MORE
According to HUL, demand scenario to become clearer by the September quarter
Hindustan Unilever chairman Sanjiv Mehta said the state of the Indian economy will become clearer by the September quarter, adding that this will help guide government decisions on further moves to restore growth.
CLICK HERE TO READ MORE
COVID-19 poses a world of opportunities for reformation of the luxury segment
While it is true that the novel coronavirus pandemic and subsequent restrictions have upended businesses around the world – with stores selling non-essential commodities like fashion being the worst affected and shuttered for months together – it is also true that crises such as the COVID-19 pandemic present opportunities to think and act out-of-the-box.
CLICK HERE TO READ MORE
Amazon and Reliance eye stake in India retail pioneer Future Group
Future Group, India's storied but debt-laden retail and consumer goods conglomerate, is in talks with Amazon.com, Reliance Industries, and other potential investors over a stake sale that could bring in $1 billion to $2 billion.
CLICK HERE TO READ MORE
Back to Business: Fashion retailers focus on shop by appointment, engaging consumers online
Now as the lockdown is being lifted in a phased manner across all the marketplaces in the country, fashion brands are coming out of their funk, focusing on adapting to changing needs amid the 'new normal' and working to 'co-exist' with the virus.
CLICK HERE TO READ MORE