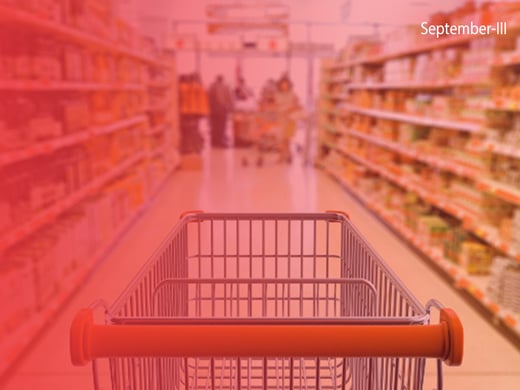 While the festive season is just around the corner, consumption patterns & behaviours have undergone a major change due to the ongoing pandemic. Patterns and strategies continue to evolve while retailers focus on digital innovations to adapt for the better. Let us go through this week's "Indian Retail at a Glance" to see how retail fared in the past week.
Demand picks up but recovery is still far off
Business outlook has brightened from the dark days of the coronavirus lockdown, but demand will take longer to revive as consumer sentiment remains muted.
CLICK HERE TO READ MORE
Only FMCG, IT and pharma have sustainable earning growth
More importantly, growth now seems to be a little more robust than even what we were hearing in terms of commentary at a pre-Covid level.
CLICK HERE TO READ MORE
FMCG cos ramp up capacity to cater to elevated demand
Most FMCG companies have started moving towards adding 15-20 percent additional capacity. Companies are looking at a combination of ways to scale up this capacity, either looking to add new lines in existing units or an addition of new facilities.
CLICK HERE TO READ MORE
According to Metro Cash & Carry, Non-food, general merchandising may see recovery around Q1 of next fiscal
German wholesaler, Metro Cash & Carry has been at the forefront of the battle since the lockdown to keep its supply chain up and running and kiranas stocked.
CLICK HERE TO READ MORE
Here is how dark stores are rescuing the starving retail segment during COVID-19
The pandemic is shaking up the way businesses are run and customers now want their groceries home delivered on-demand as they want to make fewer trips to the nearby kirana stores.
CLICK HERE TO READ MORE
Indian retail's next step: learning to serve kirana stores best
Kirana stores, accounting for 90% of retail in India, remain a crucial link. This is even more so in the post-pandemic scenario where footfalls have dwindled in malls.
CLICK HERE TO READ MORE
Reliance to use Future deal to get edge in FMCG space
Reliance Retail is expected to drive hard bargains with fast-moving consumer goods (FMCG) companies for its brick-and-mortar stores and online retail.
CLICK HERE TO READ MORE
India's virus graph is worrying, says Unilever, expects company to do well post-Covid
Unilever said increasing Covid-19 cases is a worrying trend in India, the Anglo-Dutch consumer goods company's second largest market, where business has yet to recover from the pandemic-induced slowdown.
CLICK HERE TO READ MORE
Flipkart onboards over 50,000 kirana shops to bolster delivery ahead of festive season
Walmart-owned Flipkart on Wednesday said it has onboarded more than 50,000 kirana shops to strengthen its supply chain and delivery capabilities ahead of the upcoming festive season.
CLICK HERE TO READ MORE
Nestle to help young Indian entrepreneurs with kiosk business model
This platform is part of Nestle's global youth initiative 'Nestlé Needs Youth' and would nurture entrepreneurs and create opportunities through the kiosk business model, the company said in a statement.
CLICK HERE TO READ MORE
Dabur India forays in the edible oil segment
Dabur India is foraying in the edible oils space with the launch of its cold-pressed mustard oil, in a bid to strengthen its food business.
CLICK HERE TO READ MORE