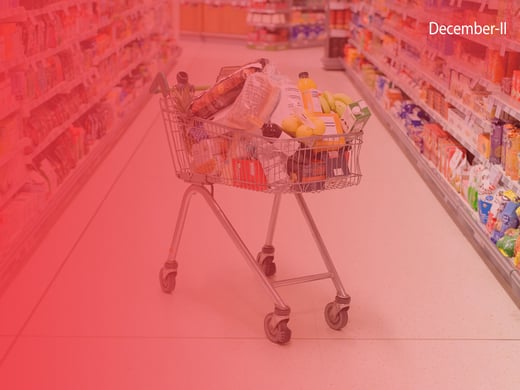 Industries across the globe have been talking about the impact of the pandemic on their business. More importantly, perhaps, they have been thinking about how to prepare for the longer-term implications and remediate the shorter-term shocks. Let us go through this week's "Indian Retail at a Glance" to understand how retail scored in the past week.
Indian consumer confidence to improve next year
Indian consumer confidence will improve significantly next year January and will peak by July and continue till September ahead of next year's festive season.
CLICK HERE TO READ MORE
Retail to be omnichannel by default
Fear of the virus and lockdown has forced customers to stay at home and generally be more paranoid about safety.
CLICK HERE TO READ MORE
Rural India likely to bounce back faster from covid disruption
With the pandemic accelerating digital adoption, there is a huge potential for businesses and brands to leverage mobile as a medium to reach rural consumers.
CLICK HERE TO READ MORE
VR and robotics are vital solutions in FMCG to boost consumer trust during COVID-19
Some retailers are implementing virtual reality (VR) solutions to offer a more engaging visual e-commerce/v-commerce experience for shoppers.
CLICK HERE TO READ MORE
Retail stores double up as fulfilment centres
With footfalls still low, retail stores are increasingly operating as 'micro-fulfilment' centres servicing click-and-collect style purchases and also acting as hub for online orders.
CLICK HERE TO READ MORE
Metro Cash and Carry to open small-format stores
The local arm of German wholesale retailer Metro Cash and Carry said it will open more small-format stores, largely focused on traders, as kirana shops emerged as key providers of essential items to Indian consumers during the country's protracted lockdown.
CLICK HERE TO READ MORE
Tata Group is reportedly nearing a deal to buy BigBasket in a grocery coup
The Tata Group is in advanced talks to buy as much as 80% of BigBasket in a deal that is likely to value the local online grocer backed by Alibaba Group Holding Ltd. at about $1.6 billion.
CLICK HERE TO READ MORE
According to Mondelez, consumers are shifting towards trusted brands
Businesses that will win need to establish stronger consumer and customer connections with trusted brands and a balanced portfolio that will service different price points and different occasions.
CLICK HERE TO READ MORE
Future-Reliance deal: Sebi awaits clarification before go-ahead
Markets regulator Sebi has sought some clarification from leading stock exchange BSE before giving its go-ahead to the Rs 24,713 crore deal between Future group and Mukesh Ambani's Reliance Industries Ltd.
CLICK HERE TO READ MORE
Amway India eyes Rs 100 cr from its traditional herb nutrition category in 2020
To accommodate the growing demand for herbal products, Amway is also gearing up to strengthen its local sourcing of herbal extracts in India.
CLICK HERE TO READ MORE
E-gifting gives local kirana stores a chance
The venture will offer consumers looking for virtual gift cards a choice of more than 150 online and offline brands across 1,500 cities in India.
CLICK HERE TO READ MORE