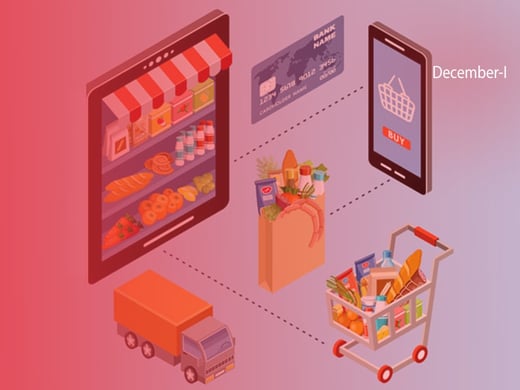 Covid 19 has led to accelerated digital innovation in Retail space. This growth is propelling omnichannel experience which caters to the unique requirements and expectations of the consumers. Brands are building tech-enabled stores by integrating state of art technologies to enhance customer experience and pounding the pavement of technology revolution in the industry. This week's edition of "Indian Retail at a glance Glance" talks about what led to India's FMCG market growth in last quarter and how the industry is prepared to face Omicron scare which could be a crucial factor to decide the further course of action for various brands.
India's FMCG market grew 12.6% in Sept quarter led mostly by price hikes
India's fast-moving consumer goods market grew 12.6 per cent in the September ended quarter compared to the same period last year largely led by higher prices and an increase in urban consumption.
CLICK HERE TO READ MORE
FMCG companies, food majors hike prices; soaps to biscuits set to become costlier
India's largest FMCG firms and food companies — which include the likes of HUL, ITC, Parle and Britannia — have hiked prices of regular use offerings covering detergents, soaps, deodorants and food items such as bread, biscuits, confectioneries and salty snacks; citing high raw material prices.
CLICK HERE TO READ MORE
Amazon, Asian Paints, Tata Tea India's 'most purposeful' brands in 2021
E-commerce giant Amazon, Asian Paints and Tata Tea have been named as the "most purposeful" brands in India 2021 in tech, non-FMCG and FMCG categories.
CLICK HERE TO READ MORE
Omicron variant unlikely to impact FMCG, pharma, telecom stocks, say analysts
The emergence of a stronger variant of COVID-19 - Omicron - may not have a strong impact on the performances of companies operating in fast-moving consumer goods (FMCG), pharmaceutical, and telecom sectors, say analysts. On Friday, equity markets in India and several countries declined sharply followed by the reports of the new variant in South Africa.
CLICK HERE TO READ MORE
How Retail Sector is Using Modern-Age Tech to Revive the Indian Economy
The retail and e-commerce industry is one of the fastest-growing industries in the world. The Indian e-commerce sector is expected to grow at a 27 percent CAGR to reach US$ 99 billion by 2024, up from US$ 30 billion in 2019. This double-digit growth rate demonstrates how quickly the sector is evolving, with technology being at the heart of this evolution.
CLICK HERE TO READ MORE
How Retail Industry is Gearing Up to Win Consumer Confidence Back
It has been almost two years since the outbreak of the pandemic, and the industries are still grappling to overcome the impacts of the subsequent lockdowns. The retail sector has started picking up again but shopping centers, food service, and entertainment sectors are finding ways to win consumer confidence back.
CLICK HERE TO READ MORE
FMCG volumes declined in villages during Sep quarter
Demand for packaged consumer goods in India's villages dwindled in the September quarter as consumers bought less of or purchased cheaper cooking oil, packaged grocery, hot beverages and personal care products, pulling down overall industry volumes for the fast-moving consumer goods (FMCG) market.
CLICK HERE TO READ MORE
JioMart Users Can Now Order From Whatsapp With Zero Delivery Fees, No Minimum Order! This Is How It Works
According to JioMart users who got WhatsApp shopping invites with a 90-second tutorial and catalog, delivery is free and there's no minimum order value. At present daily essentials such as fruits, vegetables, cereal, toothpaste, and cooking staples like paneer cottage cheese and chickpea flour can be ordered through WhatsApp. Customers can fill their shopping baskets within the app and pay either via JioMart or in cash when receiving their orders.
CLICK HERE TO READ MORE