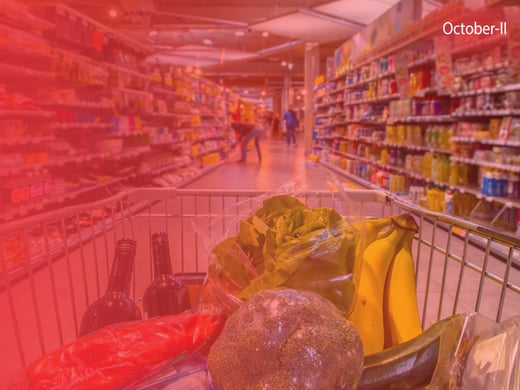 The festive season is around & shopping is in the air. As we feel that there will be some major long term effects of the ongoing pandemic on retail, the industries will continue to bear the brunt. While the consumer demands keep changing, retailers leave no stone unturned to fulfil them. Let us go through this week's "Indian Retail at a Glance" to further understand how retail fared in the past week.
Indian retail sector pegged at $780 billion in 2020
India's retail sector, which has seen a steady recovery post the unlock, has reached 80% of pre-Covid gross merchandise value (GMV) levels, and is pegged at about $780 billion this year.
CLICK HERE TO READ MORE
Retailers upbeat on festive sales as footfalls rise steadily
2020 has been a tough year, but retailers are optimistic as we step into the festive season. They expect good sales to be led by rural and semi-urban markets and increased footfalls in Tier-1 and Tier-2 cities.
CLICK HERE TO READ MORE
This is why Amazon is objecting to Future Group-Reliance Retail deal
After Future's agreement with Reliance, Amazon said the deal was a violation of a non-compete clause and a right-of-first-refusal pact it had signed with the Future Group. The deal also required Future Group to inform Amazon before entering into any sale agreement with third parties.
CLICK HERE TO READ MORE
Digital transformation of Indian retail
Indian retail is undergoing a rapid transformation propelled by several factors such as rising household incomes, increased consumerism, e-tailing, favourable demographics, and easy credit availability.
CLICK HERE TO READ MORE
Recovery in demand, consumption stocks likely to be short-lived
A consumption-led recovery in the economy will take its own time and will not be helped much by the government's measures, say analysts, who feel that the monetary help will be used to stock up on essentials instead of high-end discretionary items.
CLICK HERE TO READ MORE
The retail industry of tomorrow needs to cater to wide a consumer base, offer affordability
The impact of the pandemic can be seen on customers and retailers alike. While restrictions have been easing over time, consumers too have opened their minds and pockets to moving beyond the basics. The value for money and concept of essentials has changed due to the pandemic.
CLICK HERE TO READ MORE
How kirana stores can embrace digital to their advantage
This challenging time has catalysed a new symbiotic delivery model between etailers and the humble brick-and-mortar stores. This newly built relationship has something for both of them.
CLICK HERE TO READ MORE
Indian consumers brace for high inflation as they curb spending
Consumers in India expect inflation to remain high over the next year, further hindering their ability to spend at a time when confidence is at a record low because of job losses and wage cuts.
CLICK HERE TO READ MORE
India's food retail market to touch Rs 62 lakh crore by 2023
India's food retail market is expected to touch Rs 62 lakh crore by 2023, driven by a shift in consumption away from low value staples to high value proteins (fish, meat, eggs, pulses, dairy products, fruits and vegetables), as incomes rise.
CLICK HERE TO READ MORE