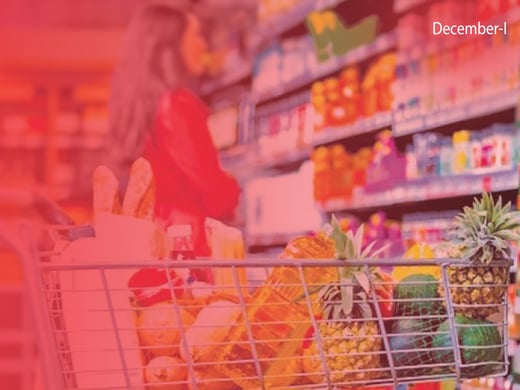 With the Covid-19 pandemic causing severe disruptions and challenges to the way of life, this edition of "Indian Retail at a Glance" talks about the revival of businesses across sectors & how the increasing demand of going digital is impacting retail. Let us go through this week's "Indian Retail at a Glance" to understand how retail scored in the past week.
India's FMCG sector shows signs of revival
Rural and semi-urban markets continued to drive growth for the FMCG sector, which witnessed a double digit growth of 10.6% in Q3'20 in in rural India, while the bigger cities, including metros, played catch-up.
CLICK HERE TO READ MORE
Retail traders appeal to PM Narendra Modi to provide COVID-19 vaccine to kirana store owners and workers on priority
Thousands of kirana stores across the country should get the credit for their service to mankind during the pandemic when online companies were not able to provide such services to each and every household.
CLICK HERE TO READ MORE
India's consumer spending to return to growth in 2021
After a COVID-19 pandemic-led contraction in consumer spending in 2020, household spending will return to growth in 2021, expanding by as much as 6.6 per cent.
CLICK HERE TO READ MORE
Leveraging FMCG marketing to create a personal brand post COVID
An emerging trend across leading FMCG companies has been the rapid rise of non-traditional partnerships. For instance, leading FMCGs (e.g., Marico, ITC) tying up with food-tech service players (e.g., Swiggy) during times of COVID for last mile delivery was a fairly successful model.
CLICK HERE TO READ MORE
Business as usual? Adapting to the new normal
90% of the CEOs in the FMCG, retail, and e-commerce sectors, are considering a re-evaluation of their supply chains.
CLICK HERE TO READ MORE
Kirana 2.0: The rise of the digital Indian retailer
Covid-19 has shown the world the importance of technology, and kirana stores have realised that tech adoption is no more an option but a requisite.
CLICK HERE TO READ MORE
How Packaging Market In India Will Showcase Positive Impact During 2020-24
Manufacturing sectors, such as pharmaceuticals or FMCG sectors such as packaged food and beverages, functional food and hygienic products have observed a considerable growth, raising the demand of packaging.
CLICK HERE TO READ MORE
Healthy, plant-based snacking: Emerging snack trends in India
The ongoing coronavirus pandemic has led to a shift in consumer behavior even when it comes to their snacking preferences. This resulted in overnight innovation in the snack food market, which comprises salty snacks, confectionery, baked snacks, and frozen snacks.
CLICK HERE TO READ MORE
Billionaires Jeff Bezos & Mukesh Ambani's tussle for 'Future' of India's retail sector explained
Analysts say the outcome of the court battle in which RIL and Amazon are embroiled will set the rules of engagement in the sector for years to come.
CLICK HERE TO READ MORE
DPIIT mulls national retail policy for ease of doing biz, digital push
Retailers have been batting for a national policy that will help form a framework and mobilize the sector, 80-85% of which is still largely unorganized.
CLICK HERE TO READ MORE
Amazon India rolls out 'Deliver Thanks' campaign as a token of gratitude
Amazon India has rolled out a digital campaign titled #DeliverThanks to celebrate and thank its delivery associates, pickers, packers, sorters and other associates working in its fulfilment and delivery network.
CLICK HERE TO READ MORE
BigBasket plans cashless, cashierless stores in Bengaluru
The plan is to have 10 such stores to begin with. Each store will have half a dozen self-service scales. Computer vision and AI will be used to understand the items you have bought and the amount you have to pay. All payments will be through digital modes.
CLICK HERE TO READ MORE