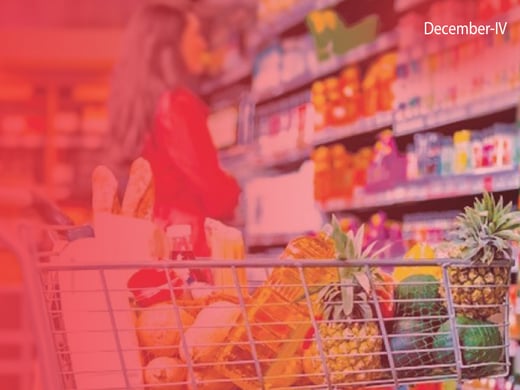 The pandemic has upended economies worldwide, transforming how people work, travel, eat, shop and entertain themselves. As the festive season is round the corner & the world is eagerly waiting for the year to end, the impact on industries & retail still continues. Meanwhile, let us go through this week's "Indian Retail at a Glance" and see how retail fared in the past week.
With worst COVID-19 woes behind, FMCG sector optimistic about 2021
The sector is learning, innovating and rising from disruptions to put the worst behind and looking forward to the new year with optimism and a new-found confidence.
CLICK HERE TO READ MORE
How Kiranas Have Survived And Thrived During COVID-19
There are over 12 million Kirana stores across India, providing daily essentials and groceries to the families in their vicinity. Through the advent of malls and megamarkets, they have retained their presence and continue to thrive, particularly in the lockdown era.
CLICK HERE TO READ MORE
FMCG Trends for 2021
As India prepares to enter 2021, there are some good tidings. Going by the latest reports, the economy is in the revival mode. Despite the pandemic's impact on consumer spending behaviour in 2020, the situation is expected to turn around in 2021.
CLICK HERE TO READ MORE
Technology and Trends Predictions 2021
FMCG players will significantly move their business operations on digital platforms to meet growing customer expectations in delivering any products & services online whereas Healthcare & Pharma services will drive the need for contactless and touchless healthcare services.
CLICK HERE TO READ MORE
Emerging trends & opportunities for retail in post-COVID-19 world
With COVID-19 changing the consumer sentiment and lifestyle, it has also hastened the
adaptation of technology in this industry. Being online and having a robust backend isn't optional anymore for any retailer. Every retailer is adopting digital ways at a much faster pace and is investing into technology to improve quality of service.
CLICK HERE TO READ MORE
FMCG records highest orders during festive sales with 35% unit share
Staples and snacking saw increased growth during COVID, with 35 and 14 per cent value contributions respectively. Personal care grew significantly (54 per cent).
CLICK HERE TO READ MORE
Commitment Towards A Value Chain Approach
Hindustan Unilever Limited (HUL) is India's leading FMCG company reporting a strong net profit in FY20 which went up from 6036 crore in FY19 to 6738 crore in FY20.
CLICK HERE TO READ MORE
Appliances, consumer electronics companies seek silver lining in 2021; pin hopes on new launches
From WFH to DIY, 2020 has been unique with many challenges and possibilities for the industry. Leading brands witnessed rapid increase in digital consumption, changes in demands where more consumers are seeking value propositions with a comfortable, convenient, and connected experience to support a changed lifestyle amid the coronavirus pandemic.
CLICK HERE TO READ MORE
The urge to feel good pushes cosmetics sales in Covid times
During these Covid times, people want to look good on Zoom as well. Also, male beauty and skincare is one of our hottest and fastest growing categories.
CLICK HERE TO READ MORE
MaxWholesale Witnesses Remarkable Growth In 2020
With more than 25,000 retailers onboard and 12x growth in its top-line, the data-driven platform has witnessed impressive growth at a time when most businesses took a major hit. In order to expand its footprint and boost its growth they further plan launch services in 4 cities.
CLICK HERE TO READ MORE
Italian confectionery major Ferrero to acquire Eat Natural
Italy-based global confectionery major Ferrero Group has announced that it will acquire Eat Natural, the maker of high-quality cereal bars, toasted muesli and granola.
CLICK HERE TO READ MORE
Nokia air conditioners launched at a starting price of Rs 30,999, to be available via Flipkart
Nokia has launched air conditioners in India marking the company's entry into the home appliances segment in the country.
CLICK HERE TO READ MORE
Atta, honey & more: Ramdev's Patanjali plans to boost Ruchi Soya portfolio ahead of 2021 FPO
Baba Ramdev's Patanjali Ayurved is planning to strengthen edible oil maker Ruchi Soya's Nutrela brand as it prepares to launch a follow-on public offer (FPO) next year to bring down promoters' shareholding in the company.
CLICK HERE TO READ MORE