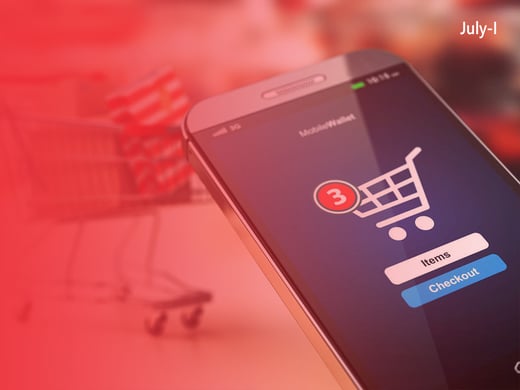 As the nation gears up for Unlock 2.0 and almost all industries have gotten the nod to operate, almost every sector of retail, from grocers to clothing stores have seen dramatic changes over the past several months. But the news hasn't all been bad. Plenty of retailers have accelerated adaptations that were in the future, to meet the needs of an increasingly digital society. The post COVID world in every aspect will be interesting, new, and full of innovation. Let us take a look at the week leading to the cusp of Unlock 2.0
As early shoppers step out, high street markets win over big malls
Retailers have witnessed tepid response since the lockdown restrictions were eased, with shoppers making short trips, spending less time, and buying exactly what they need from stores on high streets.
CLICK HERE TO READ MORE
FMCG demand in rural India robust, consumption growth reaches 85% of pre-COVID average sales
Consumption growth in rural India is outpacing the rate of expansion in cities and has already reached 85% of pre-COVID average sales underpinned by higher farm income, minimal retail disruption during the lockdown, and migrant workers returning home.
CLICK HERE TO READ MORE
RIL close to Future deal, poised to acquire the retail business of Future Group
At least three major entities promoted by Kishore Biyani—Future Retail, Future Lifestyle Fashions, and Future Supply Chain Solutions—would be merged, and the complete business will then be taken over by the oil-to-retail-to-telecom behemoth.
CLICK HERE TO READ MORE
Gurugram, Faridabad malls to reopen from July 1; social distancing, sanitization focal points
According to the Haryana Government, malls in Gurugram and Faridabad districts are all set to reopen from July 1 onwards after a three-month hiatus. A set of Standard Operating Procedure (SOP) released by the government.
CLICK HERE TO READ MORE
After hand sanitizers, FMCG firms make a dash for vegetables and fruit washes
After hand sanitizers, FMCG companies are cashing in on the emphasis on hygiene and safety by launching specialized products to disinfect vegetables, fruits, meat, and fish.
CLICK HERE TO READ MORE
Technology is the next big focus for 13 million Kirana
The onset of the pandemic has accelerated willingness of small businesses to use technology to scale up operations, opening up a market that had in the past viewed technology companies as a competitor.
CLICK HERE TO READ MORE
Voice and vernacular: The future of e-retail in India
With the Covid-19 pandemic causing a tectonic shift in purchasing trends across the world and in India, and consumers rapidly moving to online platforms, the next wave of e-retail growth in India is expected to significantly be powered by Bharat, or the other India, away from the major metros.
CLICK HERE TO READ MORE
The luxury retail store post-Covid-19
Luxury retail may bounce back earlier than other categories the world over. But there will be a few tweaks to the luxury retail store in light of the crisis.
CLICK HERE TO READ MORE
Retailers resort to video calls to curb store visits
To reduce the time spent in the stores and have fewer customers on-premises, customers can now pick products through video consultations and have them delivered or picked up via appointments.
CLICK HERE TO READ MORE
Shopping redefined: Pre-book slots at the mall, leave your kids at home
Through appointments, mall managers believe that they are more likely to get serious shoppers and it will be an opportunity to provide personalized shopping experiences.
CLICK HERE TO READ MORE
Momentum in online, app-based sales to stay for retailers
Many large brick-and-mortar retail chains that switched to online during the lockdown have reported a spike in sales from digital channels, and expect the momentum to continue as consumers prefer to order digitally despite restrictions are being eased.
CLICK HERE TO READ MORE
Fair & Lovely's rebranding brings new opportunities for HUL and competitors
This forced churning, like all forced churning, might even do the brand franchise good, and enable it to compete in a more mainstream manner and appeal to a wider audience.
CLICK HERE TO READ MORE
Amazon kicks off Smart Stores retail digitization initiative in India
The initiative gives store owners the ability to create digital storefronts that showcase all their offerings. That feature is useful because it allows merchants to precisely track inventory while letting shoppers know individual stores' product availability.
CLICK HERE TO READ MORE
Godrej Appliances sales reach the pre-COVID level, expect full capacity utilization by Sep
The company is expecting to attain its peak capacity by September, just before the festive season starts as the sales are gradually increasing due to various factors, including the opening of markets with reduced restrictions and pent up demand.
CLICK HERE TO READ MORE