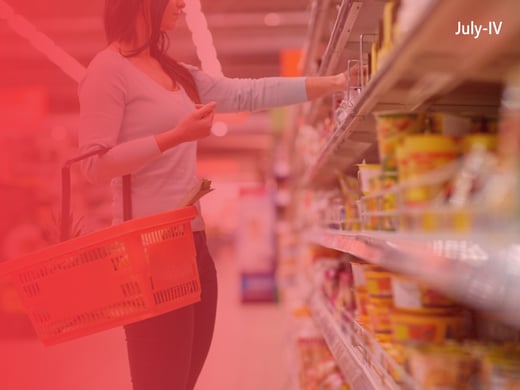 Throughout the pandemic, consumer demand has differed across product categories. While the relatively inelastic demand for traditional products such as personal care and hygiene items has driven growth, the discretionary categories have witnessed a decline, depressing overall sales. Consumers have also grown more price-sensitive and have exhibited a larger propensity to buy local and engage in conscious, savings-driven consumption. The future may, however, hold certain surprises. Let's peep into the past week to discover more:
COVID lockdown impact: In cities, pharmacies emerge as a new hotspot for FMCG sales
Chemist shops have emerged as the new grocery store for Indian consumers, particularly in urban areas, as they are allowed to operate for longer hours compared with local kiranas and even modern trade.
CLICK HERE TO READ MORE
According to Nielsen Global Connect, there are 4 main consumption drivers in post-COVID India
Healthy food, personal and home hygiene, medical expenses, and fitness are main consumer drivers, then there is education and then entertainment and investment.
CLICK HERE TO READ MORE
79% of consumers change purchase preferences
The report finds that sustainability has risen up the customer's agenda with 79 percent of consumers changing their purchase preferences based on social responsibility, inclusiveness, or environmental impact.
CLICK HERE TO READ MORE
FMCG firms partner with businesses to sell hygiene kits
For companies selling sanitizers, soaps, and disinfectants, large orders are likely to firm up as businesses resume.
CLICK HERE TO READ MORE
Signs of FMCG revival to pre-COVID levels in June; rural beats urban India in the growth trend
The FMCG industry is finally exhibiting signs of revival to pre-COVID levels in the month of June after demand starts to pick up for certain categories.
CLICK HERE TO READ MORE
RB looking at every opportunity in India to provide a full range of products
RB sells a range of hygiene products in India including Dettol, Lizol, Harpic, while in health it has some popular brands as Disprin and Strepsils. However, some of its global brands such as Cilit Bang, Mucinex, and Nurofen are yet to be introduced here in the country.
CLICK HERE TO READ MORE
Britannia may have sold more biscuits during the COVID-19 lockdown than ever before
The revenue for India's largest biscuits maker Britannia is expected to grow anywhere from 18% to 23% in the April-June 2020 period.
CLICK HERE TO READ MORE
COVID Boom: Ready-to-cook food sales rise as India gives stay-at-home advice
The ready-to-cook foods segment is seeing accelerated growth as the stay-at-home advisory gives people a chance to broaden their culinary engagement and bring home the joy of dining out.
CLICK HERE TO READ MORE
Godrej aims to grow the hygiene business to Rs 500 crore in 3 years
Godrej's wider hygiene products portfolio, which includes sanitizers, masks, disinfectant sprays, and dishwash gels, was created over a 90-day period sensing an opportunity as Covid-19 changed consumer behaviour.
CLICK HERE TO READ MORE
JioMart's entry into multiple categories may trigger a wave of consolidation talk
A significant uptick in mergers and acquisitions is anticipated in India's startup ecosystem over the next three to six months, as companies and their investors gear up for a year starved of both capital and revenue due to the Covid-19 pandemic.
CLICK HERE TO READ MORE