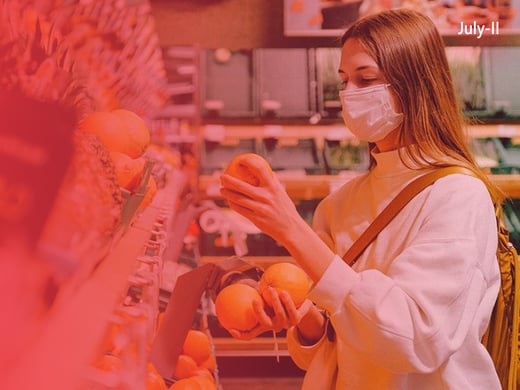 As we enter the second week of Unlock 2.0, there have been varying responses from states. Some have chosen to continue with most of the restrictions, some have chosen to liberalize faster. Each measure has had an impact, be it good or bad, on retail. The retail sector still continues to be in flux. Having said that, there is cause for cheer with most categories and channels picking up the pace and demand getting back on track. Let's take a look at what happened in the world of retail in the past week.
Record surge in sales of vacuum cleaners, dishwashers, and other DIY products
The June quarter saw a surge in sales in these products as well as products that serve DIY needs for personal grooming like epilators and trimmers. Many companies have completely sold out their stock in most of these categories.
CLICK HERE TO READ MORE
The 'new normals' for consumer-retail-relationship: short-term and long-term
The economic downturn that the pandemic has brought about will make most consumers wary about their shopping expenditures, particularly their 'discretionary' spends.
CLICK HERE TO READ MORE
What's next for CPG brands in unprecedented times
In response to the evolving impact of the COVID-19 pandemic, the consumer packaged goods industry is focused on adapting supply chains, manufacturing, and marketing to meet the rapid changes in demand.
CLICK HERE TO READ MORE
Kirana stores become new supermarkets amid coronavirus lockdown; aim to go online
While supermarkets and shopping malls were completely shut down during the nationwide lockdown, it's the local kirana stores that took the baton to supply essential products to households.
CLICK HERE TO READ MORE
Winning Retail 2.0 with Embedded Analytics
A location-enabled micro-market level planning for sales as well as point of sales visibility and promotions will become really important to win in the new normal.
CLICK HERE TO READ MORE
Rural sales lead a revival
According to Nielsen, consumption growth in rural India — which make up 36 percent of the expenditure on fast-moving consumer goods (FMCGs) — has touched 85 percent of pre-COVID levels while growth in cities has touched 70 percent of the pre-COVID levels.
CLICK HERE TO READ MORE
Pandemic helped Kirana stores embrace technology: EY survey
The nationwide lockdown prompted kiranas to adopt technology quickly as millions of households moved online to buy essential supplies.
CLICK HERE TO READ MORE
What's the impact of migrant movement on retail FMCG consumption?
From buying local brands to change of loyalty and the need for trust, we deep dive to see how migrant labour movement has changed retail FMCG consumption.
CLICK HERE TO READ MORE
Mars Wrigley India says families consuming more chocolates during the lockdown
Mars Wrigley India believes its diverse portfolio straddling across various price points is aiding the company's sales during the times of the pandemic.
CLICK HERE TO READ MORE
Tata Consumer Products to focus on distribution, enter new categories
Packaged consumer goods company Tata Consumer Products Ltd. on Monday said it will work on building its reach and distribution in the Indian market after it moved to consolidate its businesses over the last year.
CLICK HERE TO READ MORE
COVID pushes ITC to expand personal and home hygiene portfolio
ITC has launched over four to five products under Savlon since cases of COVID-19 started to surge in India, taking the lead along with other companies such as HUL, CavinKare, Reckitt Benckiser, and Marico.
CLICK HERE TO READ MORE
Marico's Saffola, Parachute beat lockdown blues; FMCG firm remains optimistic of Revival despite volatility
Two of Marico's brands Saffola and Parachute have shown high volume growth even amid lockdown. Marico has attributed high sales of Saffola to an increase in in-home consumption as consumers remained confined to homes.
CLICK HERE TO READ MORE