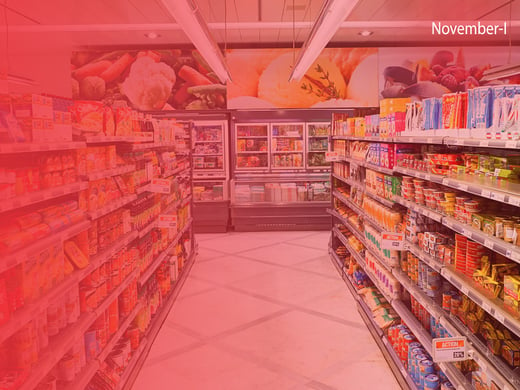 It is no secret that COVID-19 has altered this year beyond what anyone could have predicted. The pandemic has changed consumer behaviour and there will be further changes in their wants and needs in the months ahead. With so many changes in strategies & alterations taking place, let us go through this week's "Indian Retail at a Glance" to understand how retail fared in the past week.
Govt is in final stages of drafting new National Retail Trade Policy
It is being formulated to support the development of the sector that will benefit 65 million small traders. These endeavours along with the support of the industry would help in contributing a significant chunk to India's GDP.
CLICK HERE TO READ MORE
The road to economic recovery explained
The return of economic activity and declining active Covid-19 cases in India have raised hopes of recovery. What is the way forward for businesses and investors?
CLICK HERE TO READ MORE
The Changing Indian Retail Landscape in the New Normal
The Covid-19 crisis is clear proof of how the Indian retail ecosystem is so strongly deep-rooted and why it shall remain resilient for a long time to come.
CLICK HERE TO READ MORE
Traders Support Future Retail in Battle Against Amazon
CAIT stands in solidarity with Future Retail since its an Indian Company sparing no efforts in lending assistance of 7 crore traders to any Indian Company in its battle against any Foreign Company.
CLICK HERE TO READ MORE
Unconventional, agile, and tech-driven strategies to help REBOOT consumer market
Reducing digital divide will help expand rural demand and consumption. Phygital and sustainability approaches will yield new growth avenues for the retail-FMCG sector.
CLICK HERE TO READ MORE
Relief for FMCG after Centre relaxes packaging norms, lets companies use existing inventory
Manufacturers will have to stamp or paste stickers declaring details of the correct month and year of manufacturing and packing, according to an order issued by the Consumer Affairs Ministry. Without this relaxation, packaging material would have been wasted because they are not allowed to put stickers to change the details.
CLICK HERE TO READ MORE
Another wave of infection is a major concern for retailers
Another wave of infection is continued to be a major concern for retailers as 72% of the respondents agreed to it. Other major concerns are loss of sales, slow pace of sales recovery and supply chain disruption.
CLICK HERE TO READ MORE
All eyes on grocery etail as Ambani stares at a rival that can match him rupee for rupee
The Tata Group, one of India's biggest business empires, is reportedly all set to join the battle for India's retail space in what could turn out to be a major challenge to the post-oil road map Ambani has laid out for his group.
CLICK HERE TO READ MORE
Procter & Gamble to invest Rs 400 crore to build local vendor partnerships
Procter & Gamble India said it will invest Rs400 crore to partner local manufacturers and suppliers in line with the government's vision of a self-reliant India.
CLICK HERE TO READ MORE
According to HUL, "Now when it is India's time under the sun, we do hope that globalisation does not retreat"
In the growth and development of the country, exports play a big role and it would be in India's interest to ensure that globalisation is given an impetus.
CLICK HERE TO READ MORE
Firms look to boost capacity as packaged foods fly off shelves
Packaged food companies are increasing capacity as heightened demand for packaged foods and a pivot by consumers from unbranded to branded products has helped lift sales of snacks, noodles, cookies, ready-to-eat foods, condiments and staples.
CLICK HERE TO READ MORE