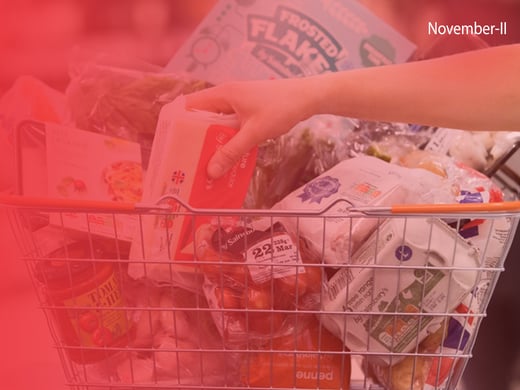 Amongst all of the crisis that we've faced, there are only a handful of them that have impacted, or have had the potential to impact every human being out there & Covid-19 is one of them. On the other side, in this festive season, retailers remain positive by tweaking their strategies & approach to get the momentum going. Let us go through this week's "Indian Retail at a Glance" to understand how retail fared in the past week.
FMCG: How COVID-19 changed the way brands operate & engage
This year, despite the pandemic, FMCG brands have seen an amazing response, this even as a majority of online players struggled to deliver during the lockdown. This has served to boost the image of the brands associated as well as lifting consumer confidence.
CLICK HERE TO READ MORE
JioMart to take on Flipkart, Amazon
Reliance Industries Ltd's JioMart, launched in May, could become the fastest-growing e-commerce platform in India, challenging Amazon India and Flipkart.
CLICK HERE TO READ MORE
'Retailers must prepare for transformation post-COVID'
With the unlocking and reopening of markets across the country during the end of Q2 have brought a transformation to the continuously evolving retail eco-system in India, retailers are strategizing and adapting to new market trends.
CLICK HERE TO READ MORE
Mondelez India's heart-warming Diwali ad is also a celebration of local retailers
With an aim to turn this Diwali into the sweetest celebration of all times, Mondelez India, the makers and bakers of some of India's iconic snacking brands are ready to once again brighten up the festive vibes with Cadbury Celebrations and the launch of the "Iss Diwali Aap #KiseKhushKarenge?" campaign.
CLICK HERE TO READ MORE
It's a digital Diwali for big corporates this time
Bikanervala, which sells sweets and namkeens, said sales were about 15% down compared with last year. What has helped the chain offset some of the impact was the digital vouchers it introduced this year. Many Indian and global firms have bought the coupons to gift their employees.
CLICK HERE TO READ MORE
When Artificial Intelligence (AI) meets 3 retail industry pain points
Artificial intelligence (AI) solutions can help the retail industry not just survive in today's challenging economy but thrive in a post-pandemic world.
CLICK HERE TO READ MORE
Consumers to shop from local markets, e-commerce platforms for Diwali
Around 66 percent consumers are expected to just visit local market for festive shopping, instead of visiting main markets in town, this Diwali.
CLICK HERE TO READ MORE
Branded biscuits, chocolates, juices preferred gifting options this year; Parle ramps up production
Come Diwali, neighbourhood kirana stores across the country overflow with gift hampers of dry fruits, mithais and home-made chocolates.
CLICK HERE TO READ MORE
Festivities likely to be smaller, more digital this year
Supply chain disruptions due to lockdowns meant lesser availability of preferred brands and homemakers were forced to try newer options. 35 percent homemakers have permanently shifted to newer brands in at least one of the grocery categories, indicating an increasing openness to try new brands.
CLICK HERE TO READ MORE
Online Grocery: What is the next frontier of growth?
The rapid growth in demand, adoption in non-metros, and customer stickiness have established that online grocery is a real and growing retail business. The challenge is to innovate and bring out-of-the-box ideas hereon.
CLICK HERE TO READ MORE
FMCG companies shift ad spends towards influencer marketing
Marketing promotions for fast-moving consumer goods (FMCG) firms are gradually shifting towards digital forums as these firms are increasingly focusing on employing social media influencers in their campaigns.
CLICK HERE TO READ MORE
ITC's diversification strategy bearing fruits
The company under Puri's leadership has been making most of the investments around FMCG. It is making structural interventions and leveraging synergy of diversity between FMCG and other business to enhance its operational efficiencies and further expand the FMCG growth engine.
CLICK HERE TO READ MORE
Retail garment markets feel warmth of winter
Sudden weather change has brought cheers among garment traders of the city as after a gap of almost seven months, retail customers have started coming for purchases.
CLICK HERE TO READ MORE
Emami bets on rural demand, sales of health & hygiene, winter products to maintain growth in Q3
FMCG major Emami Ltd is betting big on rural demand and sales of its winter, health and hygiene products to maintain the double-digit growth momentum in the third quarter of the current fiscal.
CLICK HERE TO READ MORE