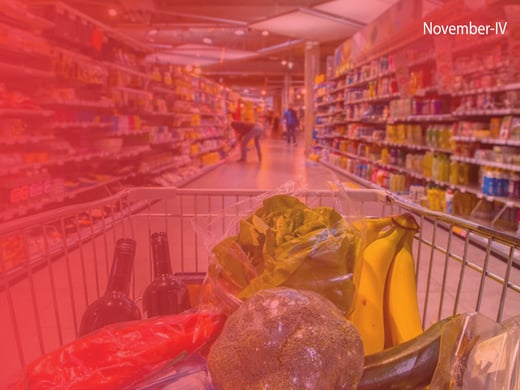 It won't be an over-stretch to say that the pandemic has expedited the growth of India's e-commerce industry, leading to a faster adoption of technology. Companies are adopting new technology solutions to meet the rising consumer demand and adopting new business models to offer a customised and interactive shopping experience. Let us go through this week's "Indian Retail at a Glance" to see how retail fared in the past week.
Consumer optimism in India reaches April levels, net spending improves too
Call it the festive mood or the hope of a Covid vaccine Indian consumers are now more optimistic than they ever were during the whole pandemic and the lockdown period.
CLICK HERE TO READ MORE
Diwali sales recover in several categories
Products related to work from home continued to report faster recovery, especially electronics and consumer durables with some segments registering double digit growth of about 15% to 18% as compared to last year's Diwali period.
CLICK HERE TO READ MORE
Direct-To-Consumer Wave Is All Set To Hit The Indian Market In A Big Way
Direct to consumer selling is a growing new omnichannel trend among retailers across FMCG, electronics, furniture, household goods, apparel, and leisure and lifestyle goods categories to name a few.
CLICK HERE TO READ MORE
Conscious consumption to DIY khana: Consumer trends in FMCG Industry during COVID
Health and sustainability have once again become the focal point behind changing consumer trends in FMCG industry.
CLICK HERE TO READ MORE
Watch for post-Diwali sales to see if demand stabilizes
India Inc. will have to wait and see if the demand surge witnessed in the festive months stabilizes and the economy picks up after that.
CLICK HERE TO READ MORE
Unilever to introduce mouthwash formulation in India, claims to reduce 99.9% corona after rinsing
Global FMCG major Unilever said it will bring to India its mouthwash formulation, which, it claims, will reduce 99.9% of coronavirus after 30 seconds of rinsing.
CLICK HERE TO READ MORE
Emami targets consumers shifting to homegrown brands post Aatmanirbhar'' campaign
Emami Ltd. is seeking to cash in on Indian consumers slowly leaning towards homegrown brands following the government's 'Aatmanirbhar' campaign for its newly launched home hygiene products besides tapping on increased awareness due to Swachh Bharat initiative.
CLICK HERE TO READ MORE
Mastercard to empower women-led kirana stores in India
The first phase of the programmes plans to cover 3000 women in three cities of Uttar Pradesh, including Lucknow, Kanpur and Varanasi.
CLICK HERE TO READ MORE