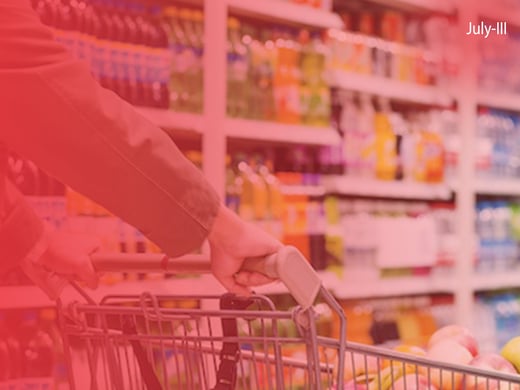 As we know that the industries were hanging by a thread during the lockdown period but as soon as the unlock phase started, retail was back in action. This new market environment post-Covid has given momentum to retail and something to cheer for. Let us go through this week's "Indian Retail at a Glance" to further understand how retail fared in the past week.
Retail inflation above 6%, IIP up 29% on low base effect
Retail inflation held above 6% level in June as price pressures across food, fuel and some services remained firm, while industrial output growth soared on the back of a low base effect in May.
CLICK HERE TO READ MORE
Post-pandemic tech trends that will reshape future of Indian retail industry
The future of retail has already begun, and omnichannel retailers are at a great competitive advantage. To keep the momentum going, retailers should adopt newer technologies that guarantee ease and comfort without compromising on safety.
CLICK HERE TO READ MORE
Why brands should create unique and customer-oriented marketing solutions
The struggle to perceptually create a brand 'differentiator' to capture and retain consumer attention begins at the very inception of a brand.
CLICK HERE TO READ MORE
How Social Commerce is Opening More Avenues for Retailers
Social Commerce is one of the fast-growing trends in retail. It is the ability for the customers to complete the purchase of the product while browsing their favorite social media website.
CLICK HERE TO READ MORE
Effects of the Pandemic on Indian Retailers
The retail market is returning to normal after months of restrictions imposed by the Covid-19 shutdown, which resulted in the closure of several shops and limits on sales.
CLICK HERE TO READ MORE
FMCG cos see double-digit sales growth in June quarter amid pandemic
Leading FMCG companies in the country are expecting their sales growth numbers in high double digit in the April-June quarter, a period when the broader market was severely impacted by the second wave of the COVID-19 pandemic.
CLICK HERE TO READ MORE
Sustainability key to consumer choices in FMCG sector, but so is brand
Consumers consider the sustainability factor while purchasing items in the FMCG sector. A recent survey by Mintel showed that consumers do appreciate the sustainability factor, but often not at the expense of quality or brand.
CLICK HERE TO READ MORE
Wipro Consumer's India FMCG business grew 17% in FY21
Despite the impact of the pandemic, Wipro Consumer Care and Lighting said it crossed the ₹8,400-crore mark in revenues in FY21 compared to ₹7,700 crore in FY20.
CLICK HERE TO READ MORE
FMCG companies are strengthening rural distribution network to combat the low consumer sentiments
Already struggling with inflation and over-the-top offers before the onslaught of the pandemic, sales volumes for brands have suffered during this second wave; there have been different reasons for it.
CLICK HERE TO READ MORE
How India's D2C Fashion Brands Are Cracking The $43 Bn Opportunity
The recent outbreak of the Covid-19 pandemic has hit the traditional retail sector hard, making brands realise the importance of shifting towards a digital-first, direct-to-consumer (D2C) model. Many industry segments have already embraced this digital transformation, but the world of fashion has possibly witnessed the biggest shift.
CLICK HERE TO READ MORE
How Indian D2C Brands Are Optimising Logistics To Reduce Costs And Grow In A Competitive Market
The emphasis on logistics management will trigger huge growth opportunities for D2C brands. After all, the growth of an ecommerce/digital commerce firm primarily depends on the size of its customer base and the company's ability to deliver to as many pin codes as possible.
CLICK HERE TO READ MORE
New-age kirana stores being upgraded to offer supermarket experience
New age kirana shop-owners are fast remodelling their stores to the modern trade store format to give consumers a similar experience of that in supermarkets.
CLICK HERE TO READ MORE
HUL shares latest steps that the company has taken towards sustainability to achieve its goal of 100% plastic waste collection by the end of 2021
The FMCG giant has launched an in-store vending machine model, Smart Fill machine, for its Home Care products. It allows consumers to reuse and recycle plastic.
CLICK HERE TO READ MORE