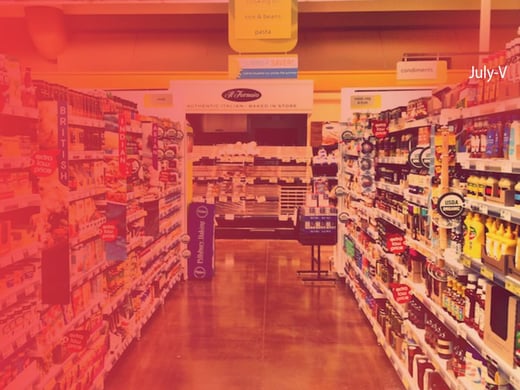 The pandemic has already forced a radical shift in consumer and company behaviours. As industries adapted to the necessity of social distancing, new business models took off. Now, many brands are wondering which of these changes will endure beyond the pandemic, permanently reshaping businesses and industries. Meanwhile, let us go through this week's "Indian Retail at a Glance" and see how retail fared in the past week.
AI in Retail: 5 Present and Future Use Cases
For retailers looking to optimize their time and improve customer service, AI can help automate in-store operations and thus bring down operational costs, which can be spent on other relevant areas.
CLICK HERE TO READ MORE
FMCG revenue growth to double to 10-12% this fiscal
The FMCG sector is expected to see revenue growth double from 5-6 per cent in the last fiscal to 10-12 per cent in the current fiscal (2021-22) mainly due to price rise across product categories.
CLICK HERE TO READ MORE
Quick Commerce To Become $5bn Opportunity By 2025
The major growth drivers for quick commerce are rising adoption among convenience seeking customers with unplanned ordering behaviour, increasing the affinity of online and Gen-Z customers towards top-up and indulgence purchases, and COVID-led change in consumer behaviour towards using online as a replacement for Kirana.
CLICK HERE TO READ MORE
Kirana stores get a digital makeover
The pandemic might have caused many problems but one positive thing to have emerged has been the acceleration towards digital transformation among kirana stores.
CLICK HERE TO READ MORE
Where does Gen X Stand in Determining the Turn of Beauty Industry
When it comes to the ever-changing beauty industry, a Gen-Xer has a very positive approach to beauty, they want to find ways to prolong their health and looks by using products that are renewing and help them in aging gracefully.
CLICK HERE TO READ MORE
Retailers start expansion as COVID-19 second wave ebbs; focus on high-street locations, smaller towns
Rentals at premium real estate locations are falling as businesses shut down, helping retailers to close attractive deals. High-street locations are gaining preference over malls as retailers open new outlets.
CLICK HERE TO READ MORE
Reliance Retail to start supplying private brands to other retailers, kiranas
Reliance Retail, the country's largest retailer, led by Mukesh Ambani, is planning to sell its private brands outside its own outlets, including millions of kiranas, in order to grab a bigger share of the country's Rs 4.2 lakh crore fast-moving consumer goods (FMCG) market.
CLICK HERE TO READ MORE
HUL, ITC report strong Q1 numbers; retail continues to suffer
FMCG majors Hindustan Unilever and ITC reported a healthy set of numbers for the April-June quarter despite a strong base. The companies have attributed this to a lesser impact of the second wave and a resilient rural demand despite the pandemic.
CLICK HERE TO READ MORE
Dabur India expects strong consumer demand for Ayurvedic healthcare products
FMCG major Dabur India expects strong consumer demand for Ayurvedic healthcare products and medicines to make up for any loss in the discretionary products business in case the COVID-19 pandemic worsens.
CLICK HERE TO READ MORE
METRO Cash & Carry adds new store in Visakhapatnam
Taking up its total store count to 29, METRO Cash & Carry, the country's leading organised wholesaler announced a store opening in Vizag.
CLICK HERE TO READ MORE
Amul posts Rs 39,200 cr turnover for FY21
The total turnover of Gujarat Co-operative Milk Marketing Federation Ltd (GCMMF), which markets dairy products under the Amul brand, grew 2 per cent to Rs 39,200 crore despite the Covid-19 pandemic.
CLICK HERE TO READ MORE
ITC to double the count of its e-store and increase footprint to 14 cities
ITC Ltd has recently reported that its e-store, which it has recently launched will be doubled in the days to follow. The e-store was started during the pandemic outbreak and is already present in seven cities with 700 plus merchandise.
CLICK HERE TO READ MORE