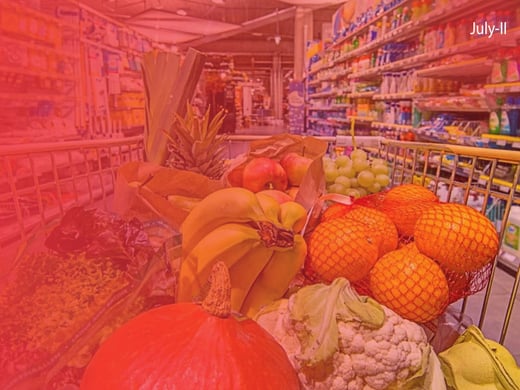 Covid-19 has forced a radical shift in consumer and company behaviours. As industries adapted to the necessity of social distancing, new business models took off. Now, many leadership teams are wondering which of these changes will endure beyond the pandemic, permanently reshaping businesses and industries. Meanwhile, let us go through this week's "Indian Retail at a Glance" and see how retail fared in the past week.
FMCG sector outlook positive; strengthening brands to capitalise on opportunities
E-commerce has changed the market paradigm completely. Boost in the FMCG sector has been witnessed due to internet penetration as traditional channels have also adopted digitisation in their day-to-day operations.
CLICK HERE TO READ MORE
Virtual Shops: The Future of Retail
Considering that even before the pandemic, the public was well aware and inclined towards online shopping, the emergence of the virtual shop during lockdown got the right ecosystem to be accepted by the consumers.
CLICK HERE TO READ MORE
FMCG sales bounce back, up 23% in June as India unlocks
With restrictions easing across the country from June, sales of fast-moving consumer goods (FMCG) have seen a sequential jump of 23 percent in the first three weeks of the month, signaling a sharp revival in consumer demand in India.
CLICK HERE TO READ MORE
The E-commerce Boom and Supply Chain Trends in 2021
As the e-commerce space evolves, expectations of the customer in terms of what they want along with when, where, and how they want it - are only set to evolve and intensify further. The supply chain plays a key role in meeting this evolving consumer demand.
CLICK HERE TO READ MORE
How Data Analytics and AI can Help Retailers Create Hyper-Targeted Engagement
Marketers need to reach customers with extremely relevant messages at the right time and right place. Customers expect to be treated as 'one in a million', and thus marketers are focusing on making marketing successful through hyper-targeting.
CLICK HERE TO READ MORE
Why International Brands are Preferred over Homegrown Brands for Skincare Needs in India
Over the past few years, international brands have become significant contributors to the Indian market. Owing to a 'globalized lifestyle', the inclination of Indian consumers towards international brands has become pertinent.
CLICK HERE TO READ MORE
How coronavirus helped India's mom-and-pop kirana stores beat Amazon and Bigbasket at their own game
The pandemic has highlighted the advantages of the personal touch and now e-commerce giants are more interested in partnering with kiranas than competing with them.
CLICK HERE TO READ MORE
Tatas to work closely with BigBasket on win-win synergies; focus on strengthening D2C approach
FMCG firm Tata Consumer Products Ltd (TCPL) will work "very closely" with BigBasket, an e-Commerce platform that was recently acquired by the Tata Group, to drive win-win synergies in terms of costs and topline.
CLICK HERE TO READ MORE
HUL and P&G bring pods to Indian households but with a twist
From sleeping pods to ear pods and now detergent pods have been added to the list of variety. A single-use detergent capsule, pods/shots have been designed for stain removal, cleaning and fabric care created for washing machines.
CLICK HERE TO READ MORE
Dabur India shares hit fresh record high on robust growth outlook
Dabur India's healthcare products are set to witness strong performance over medium term, as customers focus on immunity booster and healthy lifestyle.
CLICK HERE TO READ MORE
Marico India business delivers 30% plus revenue growth in Q1 FY22
The company's Foods portfolio revenue more than doubled year-on year with the Oats franchise continuing its strong run and recent launches scaling up well in line with medium term expectations.
CLICK HERE TO READ MORE
Amul turnover rises 2% to Rs 39,200 crore in FY21 despite COVID-19
The total turnover of GCMMF, which markets dairy products under Amul brand, grew 2 per cent to Rs 39,200 crore despite the COVID-19 pandemic.
CLICK HERE TO READ MORE
Colgate-Palmolive says 'well prepared' to meet biz challenges, to focus on capturing growth opportunities
Leading oral care player Colgate-Palmolive India Ltd is well prepared to meet the challenges by virtue of its strong financial position and its "continued focus" on key priorities.
CLICK HERE TO READ MORE