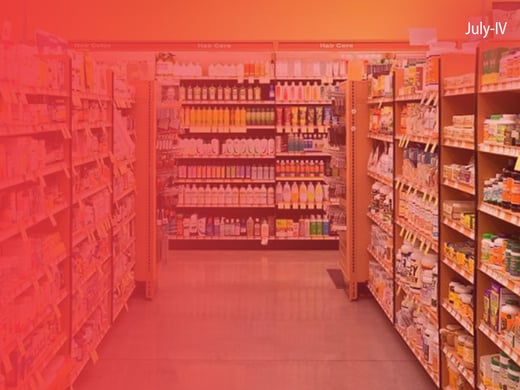 Even as the pandemic and subsequent lockdown forced near shutting of businesses and kept people indoors, significant drop in the number of virus cases has heightened the hopes for retailers across the country. With so much of alteration & changes taking place, let us go through this week's "Indian Retail at a Glance" to further understand how retail fared in the past week.
Here's how much e-commerce is contributing to sales of large FMCG companies
The pandemic has spurred demand for online groceries helping FMCG makers expand their share of sales coming via online sales channels over the past year.
CLICK HERE TO READ MORE
FMCG sales up 39.4% MoM in June, urban recovery faster than rural areas
After FMCG sales dipped in May due to the impact of the second wave of Covid-19 across the country, the month of June witnessed recovery in sales as restrictions eased and daily cases declined.
CLICK HERE TO READ MORE
Foreign-owned e-commerce firms vs Kirana stores: Why Brand India matters
For Brand India to succeed it must carry every Indian and every Indian dream forward based on both the equality of opportunity as also the opportunity of being legally compliant.
CLICK HERE TO READ MORE
E-grocers turn a corner during pandemic, but challenges are far from over
The pandemic has helped the online grocery segment to expand when other retail categories have suffered due to the lack of demand.
CLICK HERE TO READ MORE
E-comm cos to continue investing heavily on new technologies in the new normal
E-commerce companies will continue to invest heavily in new technologies in the wake of the pandemic to provide their consumers better customer experience.
CLICK HERE TO READ MORE
Male grooming market in India picks up
According to Research and Markets, the Indian male grooming market stood at $643 million in 2018 and is projected to grow at a CAGR of over 11% to cross $1.2 billion by 2024.
CLICK HERE TO READ MORE
According to ITC, COVID-19 second wave poses challenge for FMCG industry, rural demand may be blunted
The severity of the second wave of COVID-19 infections in India poses a key challenge for the FMCG industry and the spread of the virus to rural areas on a relatively higher scale as compared to the first wave is also expected to weigh on industry growth outlook.
CLICK HERE TO READ MORE
Patanjali says it will be India's No 1 FMCG company
The Patanjali Group, including Ruchi Soya, is on track to becoming the largest FMCG player in the country this year overtaking Hindustan Unilever.
CLICK HERE TO READ MORE
Wow! Momo enters into FMCG with ready-to-eat momos
The company has launched a variety of authentic flavours in the frozen ready-to-eat momo category, such as Veg Darjeeling Momos, Chicken Darjeeling Momos, Masala Chicken Momos, Corn & Cheese Momos and Chicken Cheese Momos.
CLICK HERE TO READ MORE
Marico's direct-to-consumer strategy decoded
After acquiring Beardo this year, Marico recently invested in ayurvedic beauty brand Just Herbs for the majority stake.
CLICK HERE TO READ MORE
Parle Agro enters dairy segment, launches flavoured milk items under 'Smoodh' brand
The diversification is backed by an in-depth research and extensive investment in modern and innovative technologies to build a robust dairy infrastructure and introduce novel products to the Indian consumers, the company said in a statement.
CLICK HERE TO READ MORE