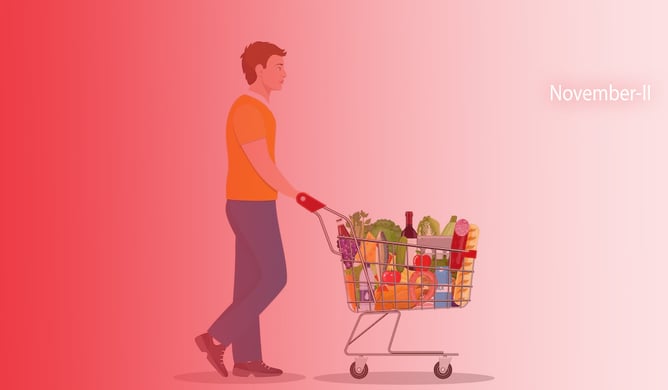 The festive season might be about tradition, but shopping in the coming days will have a distinct foreign flavour as marketplaces vie to offer international labels to Indian customers. Some other key brand launches this year on Myntra include popular South Korean brand 8Seconds, H&M Home, UCB Home and a festive collection from Birkenstock, among others. Several American and European retail brands in segments as varied as fashion, cosmetics, food & beverages, among others, are preparing to make their presence felt in the Indian market.
This week's edition of "Indian Retail at a glance" highlights Why International FMCG Giants are eyeing enormous business growth in India, Tips, and Tricks to zoom in for the demand growth in rural India and Why slow growth is visible in Hindi Belt.
Reliance to buy Metro AG's India biz for €500 million
Reliance Industries is set to acquire German retailer Metro AG's Cash & Carry business in India in a deal estimated at around €500 million ( ₹4,060 crore), industry sources said.
CLICK HERE TO READ MORE.
Mars Wrigley global chief tells India unit: Focus on Bharat
Focus on understanding shoppers of Bharat and India, Poul Weihrauch, the global chief executive of the chocolate and confectionery maker Mars Wrigley, told his India team on a visit to the country.
CLICK HERE TO READ MORE.
What FMCG companies have to say about rural demand
September quarter earnings of fast moving consumer goods companies helped zoomed in on the demand environment in rural markets that remains squeezed due to high inflation.
CLICK HERE TO READ MORE.
HUL, GSK to nix over-the-counter distribution pact
Fast-moving consumer goods (FMCG) company Hindustan Unilever and GSK Consumer have mutually agreed to terminate a distribution agreement for the latter's over the counter (OTC) products - including Iodex, Eno, Crocin, and Sensodyne - by November 2023, nearly two years before the agreed period.
CLICK HERE TO READ MORE.
Branded spices segment just got a lot hotter
It was a deal on a slow sizzle for nearly five years but gaining a majority stake in spices company, the 64-year-old Badshah Masala, was sweet news for Dabur India's CEO Mohit Malhotra. The homegrown FMCG major is the latest entrant in a segment whose growth is as hot as the spices it churns out.
CLICK HERE TO READ MORE
Rural slowdown mainly in the Hindi belt, patchy rains a reason, say companies
Consumer goods companies said there is no uniform trend in slowdown in rural India and that it is largely driven by the Hindi belt, especially Uttar Pradesh and Bihar, which has dragged the overall growth.
CLICK HERE TO READ MORE.
Somasree Bose Awasthi is Marico's new CMO
Somasree Bose Awasthi has joined consumer products giant Marico as its new Chief Marketing Officer. She was previously the CMO of Godrej Consumer Products Limited a post she held from October 2021 to November 2022.
CLICK HERE TO READ MORE.