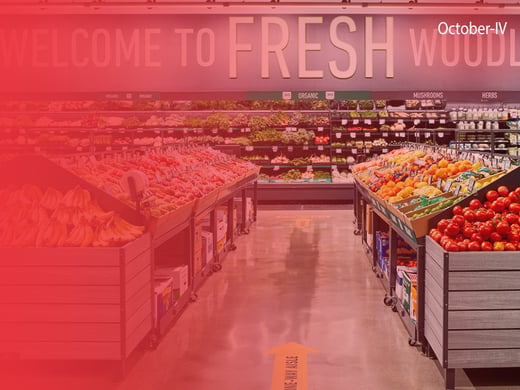 As we know that the industries were hanging by a thread during the lockdown period but as soon as the unlock phase started, retail was back in action. This new market environment post-Covid along with the ongoing festive season has given momentum to retail. Let us go through this week's "Indian Retail at a Glance" to further understand how retail fared in the past week.
India Business Returns To The Growth Path
The return of growth of India business, along with Brazil and continued recovery in China helped the company's emerging markets clock a growth of 5.3 per cent in the September 2020 quarter.
CLICK HERE TO READ MORE
'Focused' shoppers bring back cheer as mall owners hope for recovery in festive season
Most mall owners have asked their brand retailers to pass on any price benefits to consumers to incentivise their visits to the malls.
CLICK HERE TO READ MORE
Bharat spurs growth of FMCG companies, but Urban India not far behind
At a time when urban India has been reeling under the impact of the Covid-19 pandemic, rural India has spurred the growth for fast-moving consumer goods (FMCG) companies.
CLICK HERE TO READ MORE
Consumer goods makers get festive booster shot
The festive season has provided some much-needed cheer to the corona-hit consumer goods industry, with retail sales in the 10-day Navratri to Dussehra period not only topping last year's numbers but registering strong double-digit growth.
CLICK HERE TO READ MORE
In Fight With Amazon, India's Future Retail Sees Liquidation If Reliance Deal Fails
The dispute centres around FRL's decision in August to sell its retail, wholesale, logistics and some other businesses to Reliance for $3.38 billion, including debt.
CLICK HERE TO READ MORE
Retail chain Tablez aims Rs 500-crore turnover, network of 250 outlets in next 5 years
Multi-brand retail chain Tablez is looking at a turnover of around Rs 500 crore and expanding its network to around 250 stores in India over the next five years.
CLICK HERE TO READ MORE
L'Oreal sales rebound after lockdowns ease
Like companies in the luxury goods sector, L'Oreal was hit hard by coronavirus lockdowns earlier this year when stores and airport retailers shut down. It was also hurt by hair salons having to close temporarily, as it sells professional products.
CLICK HERE TO READ MORE
Marico explains how e-commerce has removed entry barriers
Marico has also completed the 100% acquisition of the Ahmedabad-based startup Beardo, in which it had first acquired a stake in 2017. Beardo's strong presence in the online men's grooming segment is what drew Marico to the startup.
CLICK HERE TO READ MORE
Flipkart To Buy 8% Stake In Aditya Birla's Fashion Unit For $204 Million
With the COVID-19 pandemic keeping most people indoors, Indians are turning to online platforms for all purchases from bread to phones to clothes.
CLICK HERE TO READ MORE
Covid-driven cleanliness overdrive adds sparkle to FMCG sales
Pandemic-driven cleanliness overdrive has resulted in products like toilet cleaners, detergents, handwash, soaps, surface cleaners etc are flying of the shelves.
CLICK HERE TO READ MORE
Nestle India clocks double-digit sales growth in Q3, plans Rs 2,600 cr investment over 3-4 yrs
FMCG major Nestle India announced its plans to invest Rs 2,600 crore over the next three to four years to augment its manufacturing capacity in the country, terming the move as "vindication of confidence and trust" the company has in its India journey.
CLICK HERE TO READ MORE
Coca-Cola revenue beats as beverage demand rises from pandemic lows
Coca-Cola Co beat quarterly revenue expectations as the world's largest soda maker benefited from the partial reopening of theaters and restaurants shut for months by the COVID-19 pandemic.
CLICK HERE TO READ MORE
Britannia expects rural segment to contribute 35 pc to turnover in next 18 months
Food company Britannia Industries expects the rural segment to account for about 35 percent of its total sales in the next 18 months from 30 percent currently on the back of network expansion.
CLICK HERE TO READ MORE