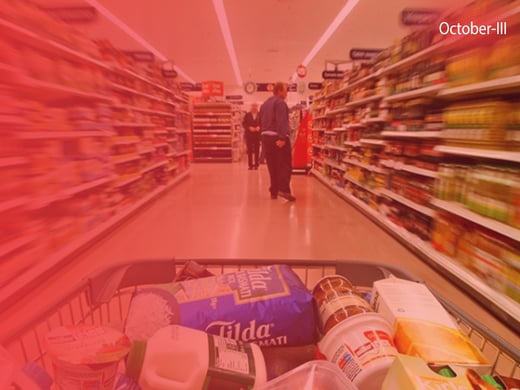 Even as the pandemic and subsequent lockdown forced near shutting of businesses and kept people indoors, the approaching festive season and significant drop in the number of virus cases has heightened the hopes for retailers across the country. With so many changes & redesigning taking place, let us go through this week's "Indian Retail at a Glance" to further understand how retail fared in the past week.
FMCG wrap: Challenges companies, retailers face in post-COVID world
The pandemic has taught many new lessons to retailers and brands. To stay in the game, they must redesign their strategies.
CLICK HERE TO READ MORE
In muted festive season, low-value items are a hit among ethnic wear shoppers
Low value ethnic wear products are the favourite among a chunk of shoppers this festival season as celebrations remain restricted due to the pandemic.
CLICK HERE TO READ MORE
Makeup, skin care business up as people step out
As people socialise again, discretionary categories in FMCG like makeup and skin care are finally seeing a gradual recovery.
CLICK HERE TO READ MORE
61% consumers expect brand innovations that enable them to stay healthy or ensure their safety
At a time when the pandemic has significantly impacted consumer behaviour, the role of a brand in creating a meaningful connection with consumers is set to witness a transformation.
CLICK HERE TO READ MORE
How Indian Companies Are Using Technology to Reach New Consumers
This tension between 19th century challenges and 21st century opportunities creates interesting dynamics for the 86 percent of global consumers who live in developing countries and the businesses that serve them.
CLICK HERE TO READ MORE
Emerging Trends In Digitizing Retail Stores
Several new-age organizations that are driven by technology, harnessed this imbalance to establish a structured, easy, and hassle-free environment for retailers across the board, eventually reshaping the vision of B2B operations.
CLICK HERE TO READ MORE
Tech-Savvy Kiranas: The way forward for retail in India
Kirana stores and residential units have always coexisted. But, with technology's progress, several of us have turned to online shopping for groceries and other items we use every day.
CLICK HERE TO READ MORE
Post-COVID: Indian Companies look towards three Central American nations for business opportunities
In the Healthcare & Hygiene Expo, which was organized with industry body FICCI, top 15 Indian companies including BPL, Dabur, Raymond UCO and Sri Sri Tattva had made their presentations to more than 100 companies from three Central American countries.
CLICK HERE TO READ MORE
Decoding Impact Of Covid-19 On FMCG Sector
Overall sales to the e-commerce channels have hit the roof whereas online sales in FMCG have doubled or tripled in the last six months.
CLICK HERE TO READ MORE
Online, offline woo shoppers together
Online and offline retailers in India have buried their long-running hostility to bind their fortunes together this festive season, a detente that has been possibly forced by the unprecedented changes in consumer behaviour due to the coronavirus pandemic.
CLICK HERE TO READ MORE
FMCG Q2 earnings to help gauge demand direction
Analysts expect rural growth to march ahead of urban. The easing of the lockdown and resumption of supplies to the market are expected to aid recovery of some personal care products and continue to benefit those that rely on in-home consumption.
CLICK HERE TO READ MORE
Britannia Industries Q2 net up 23% to Rs 495 crore; revenue rises 12% to Rs 3,419 crore
Food company Britannia Industries Ltd reported a 22.96 per cent increase in consolidated net profit to Rs 495.20 crore for the quarter ended September.
CLICK HERE TO READ MORE
PepsiCo India is optimistic about future; revival signs by strong rural demand, in-home consumption
As the festive season peaks, the company expects enhanced demand in categories like snacks, juices and other carbonated beverages led by the sentiment of celebration.
CLICK HERE TO READ MORE
DMart converts 2 Mumbai stores into fulfilment centres to cater to e-commerce demand
Avenue Supermarts Ltd, which owns and operates supermarket chain DMart, has closed two of its retail stores in Mumbai and converted them into fulfilment centres to cater to its growing e-commerce business in the city.
CLICK HERE TO READ MORE
Parle Agro eyes Rs 10,000-crore turnover by 2022, to introduce new 'major product'
The company, which clocked a turnover of Rs 6,500 crore in 2019, had recently introduced its new offering B-Fizz, a malt-flavoured fruit juice based drink in the market and expects an overall growth of 10 per cent this year.
CLICK HERE TO READ MORE