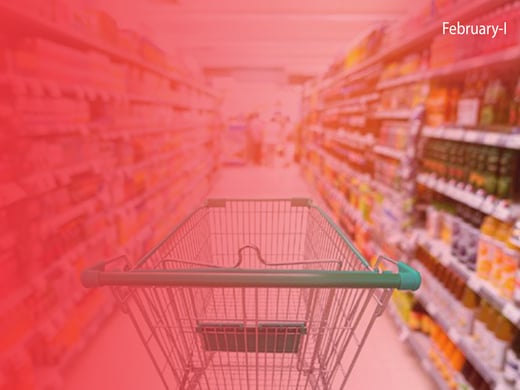 Retail is constantly under pressure to adapt, and keep pace with technology, consumer behavior, and the disruptive business models altering how consumers shop. The needs of consumers are changing the ways businesses function. Meanwhile, let us go through this week's "Indian Retail at a Glance" and see how retail fared in the past week.
FMCG: The trends to watch out for in 2021
Consumer habits also evolved with COVID and 'immunity' became the buzzword in the FMCG industry. Marketers reverted by launching ready-to-eat meal options and immunity-based packaged goods.
CLICK HERE TO READ MORE
Budget 2021: Apparel sector will become globally competitive, FMCG consumption will go up
The higher allocation under rural infrastructure will hasten development and go a long way in improving penetration and helping drive consumption of FMCG products in the hinterland.
CLICK HERE TO READ MORE
Consumer goods companies need to revisit business models post Covid-19 to withstand future disruptions
The Covid-19 outbreak requires consumer product companies, that found ways to manage short-term disruptions during the pandemic, to revisit existing business models to maintain relevance and withstand future disruptions.
CLICK HERE TO READ MORE
Budget 2021: FMCG Players Seek Growth and Resilience from Pandemic by Boosting Spending Power of Consumers
One of the key tasks of the Budget 2021 would be to fuel consumer demand and further revive the economy. The Government's focus needs to be on increasing the rural spending and this will further boost rural consumption of FMCG products.
CLICK HERE TO READ MORE
Despite production & supply woes, FMCG market growth doubles to 4.2% last year
Except for beverages, which declined 3.8 per cent, all other segments —personal care, household and foods witnessed significantly higher growth during the year.
CLICK HERE TO READ MORE
Indian E-commerce Market To Surpass Modern Trade by FY 24-25
The e-commerce market size is expected to grow from $29 billion in FY20 to $100-105 billion by FY25 in comparison to modern trade's $50-billion size that may increase to $85-90 billion.
CLICK HERE TO READ MORE
Top FMCGs bounce back on personal care, winter items
The urban markets, which took a big toll because of mobility reasons, are coming back to growth, albeit still at a very low level.
CLICK HERE TO READ MORE
Skincare brand Sebamed aims to grow 10 times in next 5 years
Sebamed is investing in brand building and is planning to pace up its distribution network across channels to reach 100 cities by the end of this year.
CLICK HERE TO READ MORE
Colgate-Palmolive India Q3 net profit rises 25% to Rs 248.36 crore
FMCG firm Colgate-Palmolive (India) reported a 24.74 per cent increase in net profit at Rs 248.36 crore in the third quarter ended in December.
CLICK HERE TO READ MORE
Nepal's noodle king harbours India expansion plans
Billionaire Binod Chaudhary, the man behind Wai Wai instant noodles, is diversifying his food business and has plans for an IPO soon.
CLICK HERE TO READ MORE
Marico Limited's India business has delivered a robust 15% volume growth in Q3FY21
Broadening its play in the healthy foods category, during the quarter, the company forayed into the plant-based protein category with the launch of Saffola Mealmaker Soya Chunks.
CLICK HERE TO READ MORE
Dabur India reports 23.7pc highest ever quarterly profit in Q3
The benefits from its distribution footprint enhancement initiatives, coupled with strong innovation to meet the emerging consumer needs, helped Dabur end the third quarter of 2020-21 with its highest-ever quarterly revenue and profit.
CLICK HERE TO READ MORE