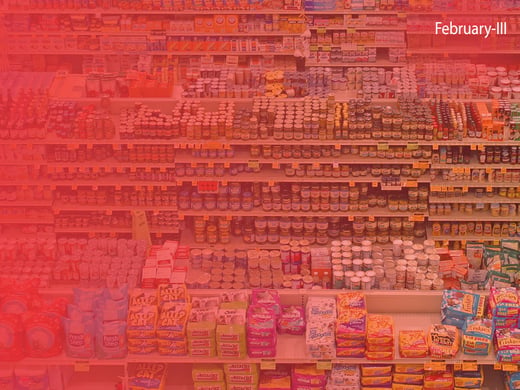 Covid-19 has triggered unprecedented growth in e-commerce, overwhelming retailers' supply chains. Even though we're still in the initial days of the changing world, the lessons are focused on the bright side of retail. Meanwhile, let us go through this week's "Indian Retail at a Glance" and see how retail fared in the past week.
What the latest results of FMCG cos say about consumption
The December quarter earnings of India's top FMCG companies have given a sense of how in-home consumption has shifted as the country opened up and consumers bought more than just essential goods.
CLICK HERE TO READ MORE
Chota Packet, Bada Dhamaka: Know how low unit packs are driving FMCG growth in India
Low unit packs (LUPs) are small packets of goods that cost anything between Re 1 to Rs 20. And, FMCG companies are banking on them to drive growth.
CLICK HERE TO READ MORE
Urban Indians avoided eating out, large stores; 4 in 10 preferred online shopping during pandemic
Urban Indians ate less during COVID-19 pandemic, even when most of the restaurants reopened with all SOPs prescribed. However, they spent money on online shopping, visited local markets and kirana shops.
CLICK HERE TO READ MORE
Ecommerce sees 36 pc growth in last quarter in IndiaIn October to December 2020 period, PCB&W and FMCG & Healthcare (F&H) categories' volumes grew by 95 percent and 46 percent year-on-year (YOY) respectively.
CLICK HERE TO READ MORE
Shift in the mindset and behaviour of beauty and fashion industry post pandemic
While the Lipstick Index is far from obsolete, it's fair to give credit to last year for adding what one could call the "Eyecare Index' and "the Skincare Index" in a nod to growing sales of their respective categories.
CLICK HERE TO READ MORE
FMCG cos strengthen distributors, sales staff as rural demand grows
Upbeat on growth in rural markets, major fast-moving consumer goods makers are shoring up efforts to get more distributors and stockists on ground in India's smaller cities and villages.
CLICK HERE TO READ MORE
Hindustan Unilever expects COVID impacted products to rebound in 2021
Stating that the coronavirus pandemic has shaped new consumer behaviours, such as staying at home, stocking and saving, contactless culture, clean living, and online shopping, the company said some of these trends will continue post the pandemic.
CLICK HERE TO READ MORE
Nestle Q4 preview: PAT likely to grow 16-19% YoY; may announce dividend
The Maggi noodles maker is expected to post double-digit revenue growth in its profit after tax (PAT) for the fourth quarter of the financial year 2020.
CLICK HERE TO READ MORE
Why processed food has emerged as a dynamic industry during the pandemic
FMCG retail outlets have registered double digit spike in frozen food item category specially owning to the fear of hygiene.
CLICK HERE TO READ MORE
Pandemic Impact: Indian Consumers Recover Their Taste for Traditional Snacks
A recent survey by the FMCG giant Mondelez revealed that 88 percent of Indians were snacking more than before the pandemic with a large majority of millennials and those working extended hours from home preferring snacking over meals.
CLICK HERE TO READ MORE