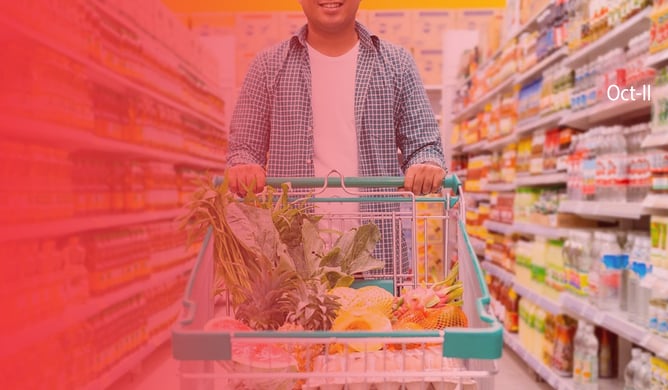 Cloud migration within the FMCG industry involves the transition of an FMCG company's IT infrastructure, applications, and data from traditional on-premises data centers to cloud-based platforms. While this process can be intricate and demanding, it presents several advantages for FMCG firms. The forthcoming growth is expected to be primarily propelled by various sectors, including automotive, FMCG, e-commerce, manufacturing, commodities, travel, and hospitality, during the festive season. This period serves as a catalyst for economic expansion in the country, significantly contributing to India's GDP in the quarter. Key festivals can account for up to 40% of annual sales for companies in sectors like home decor, apparel, electronics, confectionery, and more.
This week's edition of "Indian Retail at a glance" shares insightful articles How Dabur's cloud migration is a significant milestone in the digital transformation of the Indian FMCG industry? What festive season holds for retailers? Why Rural India's FMCG Demand Faces the Heat.
Dabur India completes industry cloud migration successfully
FMCG major Dabur India announced the successful culmination of one of the industries' largest and most intricate cloud migrations.
CLICK HERE TO READ MORE
Retailers eyeing 10-12% growth in sales during festive season this year, employment to increase by 20%
Consumer sentiment is expected to pick up this festive season with retailers expecting at least 10-12 per cent growth over last year's sales, said Wright Research. Per the report by Wright Research, the growth is expected to be driven by automotive, FMCG, e-commerce, manufacturing, commodities, travel & hospitality sectors this festive season.
CLICK HERE TO READ MORE.
FMCG consumption showing improvement, says Dabur India
Dabur India expects a mid to high single-digit growth in its consolidated revenue for the July-September quarter. The company predicts a recovery in consumption in both urban and rural markets due to improving macro indicators, government expenditure, and positive consumer sentiment.
CLICK HERE TO READ MORE.
Inflation a cause of worry for FMCG companies; margins could take a hit
Higher inflation has again become a matter of concern for fast-moving consumer goods (FMCG) companies.
CLICK HERE TO READ MORE.
Rural India's FMCG Demand Faces the Heat - A Detailed Insight!
The Fast-Moving Consumer Goods (FMCG) sector in rural India witnessed a significant downturn in the July-September 2023 quarter. A combination of factors such as increased commodity prices, subdued consumer demand, and faltering supply chains have contributed to this sharp reduction in performance.
CLICK HERE TO READ MORE.
FMCG firms see subdued volume growth in Q2; rising food prices & rain deficit hamper rural demand
The FMCG industry expects a subdued low to mid-single-digit volume growth in the July-September quarter as weak macroeconomic conditions amid rising food prices and below-normal rainfall in some regions are impeding the recovery in rural demand.
CLICK HERE TO READ MORE.
India's FMCG sector faces regulatory obligations, one too many
The much-hyped 'Ease of Doing Business Index' notwithstanding, an enterprise in India in the FMCG sector needs at least 23 licenses and registrations under 14 Acts to start a manufacturing facility.
CLICK HERE TO READ MORE.