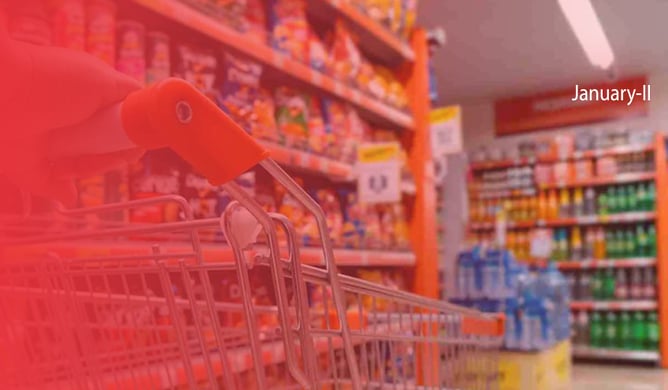 In 2023, it is expected that businesses that are focused on growth will start expanding. This can already be seen in the food and grocery industry where independent stores are starting to open additional locations. This trend will likely be more prominent in smaller towns and cities rather than larger ones, as shopkeepers in those areas are likely to be looking to grow and transition to a more retail-focused mindset. Additionally, rural areas may see increased demand for goods and services as a result of better crop yields and improved financial conditions. This should lead to increased sales volume, which will in turn help to improve profit margins.
This week's edition of "Indian Retail at a glance" highlights Retail Trends that will shape India this year? What drives Digitalization in Kirana Stores? Which Brand is expanding product portfolio?
Trends that will shape Indian retail this year
There are broadly two kinds of players. One operates with a shop-keeper mindset. This implies that the business scope is limited, the person only buys and sells a product with an existing demand.
CLICK HERE TO READ MORE.
At 9.6%, South sees highest FMCG sales growth in December
While there has been a general slowdown in demand for Fast-Moving Consumer Goods (FMCG), consumption in South India grew by 9.6 per cent in December compared to November.
CLICK HERE TO READ MORE.
How Kirana Stores Are Going Digital To Drive Last-Mile Financial Inclusion
The significance of kirana shops in India was highlighted by the pandemic. Indian customers during lockdowns shopped more at their neighbourhood stores rather than ordering groceries online.
CLICK HERE TO READ MORE.
Reliance Consumer to focus equally on full FMCG range, backend sourcing
Reliance Industries (RIL) aims to build an integrated fast-moving consumer goods (FMCG) company with plans to enter almost every product category and an equal focus on backend sourcing, according to a regulatory filing.
CLICK HERE TO READ MORE.
After a year of struggle for consumer staples, 2023 looks promising for FMCG
The year 2022 was one of struggles for the Indian fast-moving consumer goods (FMCG) companies which battled simultaneously on two very important fronts — soaring raw material costs and food inflation on one side, and dismal rural demand on the other.
CLICK HERE TO READ MORE.
Rural commerce startup VilCart raises $13M in Series A round
Rural commerce startup VilCart has raised $13 million in a Series A funding round led by Asia Impact, with participation from Nabventures Fund and Texterity Private Limited.
CLICK HERE TO READ MORE.
Rage Coffee Expands Product Portfolio, Unveils Easy-to-Make Coffee Sachets
Rage Coffee, a Delhi-based caffeine innovation FMCG company that manufactures, markets, and distributes innovative packaged caffeine-related products, has announced the launch of its 20 ml coffee sachets.
CLICK HERE TO READ MORE.