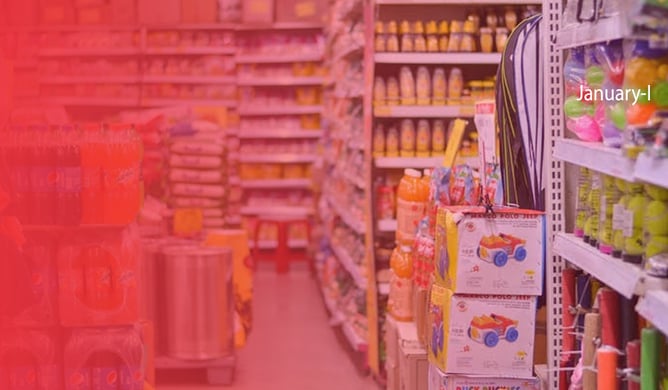 Retailers and wholesalers are restocking their inventory of electronics, smartphones, and fast-moving consumer goods (FMCG) in anticipation of strong sales around Republic Day, when there will be more discounts and consumer offers compared to the previous year. Both essential and non-essential goods companies said they are prepared to restock their products in case of any increase in demand, and also to ensure that their supply chain is not affected. While price increases have boosted the revenue of FMCG companies, they have also led to consumers switching to cheaper options, particularly in personal and home care categories.
This week's edition of "Indian Retail at a glance" highlights What to expect from Budget 2023? Will Republic Day Sale result in robust FMCG sale? Why rural demand remain muted this year as well? and the role of e-commerce in boosting the FMCG Sale?
Why a shift towards 'consumer commerce' will take centre stage in 2023
Some of the aspects that were witnessed in 2022 would be growth drivers in the coming year. For instance, India is strongly positioned for supply chain opportunities backed by strong macro-economic fundamentals, skilled labour pool, young demographics, large English-speaking population, and high levels of consumption.
CLICK HERE TO READ MORE.
Rural demand to remain muted this fiscal, expect green shoots in FY24

The third quarter of FY23 is expected to bring good news for FMCG companies in terms of growth in rural demand. Rural demand which was always growing higher than urban has been reporting degrowth in the past few quarters due to inflationary pressures.
CLICK HERE TO READ MORE.
Budget 2023| With inflation fears subsiding, the FMCG sector wishes for more money in the hands of consumers

India's Fast Moving Consumer Goods (FMCG) makers confronted twin challenges in 2022: subdued rural demand and inflationary woes. This meant that a bulk of the rural consumers resorted to downtrading -- buying less quantity or cheaper brands -- in some categories.
CLICK HERE TO READ MORE.
Retail traders call for e-commerce regulator, national retail trade policy
Representatives of offline retail trade led by the Confederation of All India Traders (CAIT) have called upon the central government to immediately roll out e-commerce policy and National Retail Trade Policy.
CLICK HERE TO READ MORE.
Marico expected to post low single-digit Q3 consolidated revenue
FMCG major Marico on Wednesday said that the firm's consolidated revenue will be in low single digit in the December quarter on a year-on-year basis due to a muted recovery in rural demand amid elevated inflation.
CLICK HERE TO READ MORE.
FMCG giant Dabur acquired a 51% majority stake in Badshah Masala
With a Market worth of ₹99,528.81 Cr, Dabur India Ltd. is a large-cap company that operates in the nation's Fast Moving Consumer Goods (FMCG) industry. In accordance with the share purchase and shareholders agreement, the firm has stated today that it has acquired a majority stake of 51% of the equity shares of Badshah Masala.
CLICK HERE TO READ MORE.
Dunzo, Blinkit, Zepto new distribution platforms for FMCG majors
Just before the onset of the pandemic in 2019-20, most sectors were beginning to warm up to buying and selling on e-commerce platforms. Launching e-commerce only products and collections was a far cry. The FMCG sector was the slowest adopter of e-commerce.
CLICK HERE TO READ MORE.