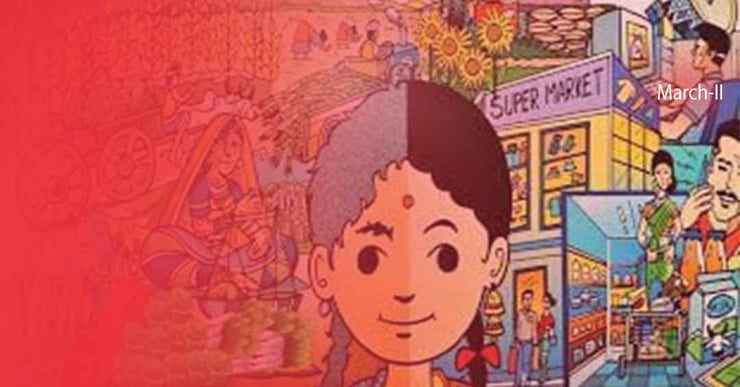 FMCG companies are facing challenges due to the decline in the rural market and high commodity prices, which has led to difficulty in finding the right product-price balance. HUL and other companies have been impacted by increased input costs and poor sales volume, but remain optimistic about a potential recovery, although multiple factors may impact it. Retailers and FMCG companies are making changes to their operations, including improving the consumer and shopper experience by making their distribution networks more agile, adopting technology for omnichannel growth, and digitizing the supply chain using sustainable practices.
This week's edition of "Indian Retail at a glance" highlights Why Made in India products seeing good demand? Why Digital & Tech 'Propel' Retail and FMCG Sectors to Reinvent in the New Normal?
FMCG cos eyeing 20% growth in 2023, bet on rural demand to drive segment
The FMCG industry is optimistic about at least 20 per cent growth in 2023 after an 'exponential growth' in 2022. "We saw a high demand and a growth of more than 30 per cent from the last fiscal year.
CLICK HERE TO READ MORE.
FMCG sector to propel India's economic growth: P&G India chief
At a time when India has emerged as the fastest growing economy, India Inc can partner and accelerate the country's economic and developmental progress, said LV Vaidyanathan, CEO and MD, P&G India.
CLICK HERE TO READ MORE.
Holi 2023: Made in India products seeing good demand
The festival of colours will apparently be even sweeter as make in India is getting a major boost this Holi. This time, Indians are going gaga over 'Made in India' products over those made in China, giving them a run for their money, making Holi even joyful.
CLICK HERE TO READ MORE.
Digital & Tech 'Propel' Retail and FMCG Sectors to Reinvent in the New Normal
As FMCG and retail brands rebound post-pandemic with increased consumer spending, there is an evolving consumer behavior influenced by technology and digital providing quick access, delivery, and convenience, and consumption patterns are more nonlinear backed with constant connectivity.
CLICK HERE TO READ MORE.
FMCG sector to be major driver of economic growth in India: Union Minister Piyush Goyal
Union Minister of Commerce and Industry Piyush Goyal on Monday asked manufacturers, FMCG providers and the consumers to work collectively to revive Indian domestic manufacturing at scale, with high quality and at competitive prices, so that India provides a large amount of work and business opportunities.
CLICK HERE TO READ MORE.
HUL, ITC, Nestlé, Britannia are growing revenues by increasing prices; can this be sustainable?
In spite of a steady decline in volume uptake, the country's fast moving consumer goods (FMCG) majors have managed to pull off healthy top-line growth in the December quarter. From Hindustan Unilever (HUL) to ITC, leading FMCG players reported an 8-17 per cent rise in their revenues. And a majority of them, such as ITC, HUL, Nestlé and Britannia, expanded their Ebitda (earnings before interest, tax, depreciation and amortisation) margins, too.
CLICK HERE TO READ MORE.
Mondelez India Accelerator CoLab Teams Up With Huddle To Push Early Stage Snacking Brands Hungry For Growth
According to Deloitte's 2022 survey on Indian consumer habits, consumer spending has slowed down by 18%, due to stubbornly high inflation and a sluggish economy. But snacking has risen steadily since the Covid days. People staying at home and working remotely have increasingly binged on comfort foods and even replaced large meals with functional snacks, delicious but full of added nutrients. In brief, the snacking trend has evolved.
CLICK HERE TO READ MORE.