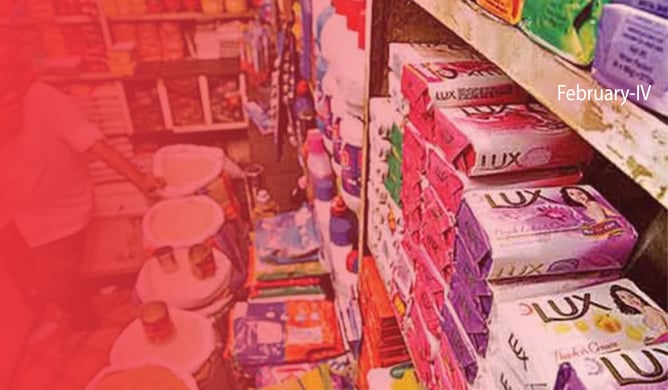 "Indian Retail at a Glance"
The government has increased its subsidies to farmers and invested more in rural areas, which should result in rural growth. But, El Nino, predicted to happen this summer, could adversely affect the FMCG sector, especially for companies that primarily operate in rural areas. Nonetheless, executives from these companies have asserted that the upcoming price increases of 3-10% within the next one to two months will be one of the least significant in the last two years when inflation hit record highs and the value of the rupee decreased significantly compared to the US dollar. Thus, they do not think it will substantially affect consumption when general inflation is decreasing.
This week's edition of "Indian Retail at a glance" highlights the reasons for consumer prices set to rise? Which FMCG categories to drive e-commerce penetration in future? why one should be positioned in traditional FMCG now?
This 'little boy' can roil FMCG recovery in rural India
Just when fast-moving consumer goods (FMCG) companies are looking to find green shoots of recovery in rural areas, a 'little child' threatens to derail the demand revival. El Nino (literally 'the boy', in Spanish) is a weather phenomenon that disrupts monsoon in India, causing droughts and crop failures, resulting in depressed demand for goods in rural India which contributes nearly 35% to overall annual FMCG sales.
CLICK HERE TO READ MORE.
Consumer prices set to rise: Packaged food, liquor, refrigerators, ACs, imported apparel to cost 3-10% more
Prices of several consumer goods including packaged food and dairy products, liquor, refrigerators, air-conditioners, imported apparel and personal care products are set to increase up to 10% with companies passing on certain input price increases and the impact of rupee depreciation.
CLICK HERE TO READ MORE.
The Consumption Dilemma
WE NEED MORE MONEY in hands of people," Hindustan Unilever (HUL) MD & CEO Sanjiv Mehta said while announcing the company's Q3FY23 results. He was replying to a question about dealing with low consumption and volume growth, especially in rural markets, which contribute over 40% to revenues of most consumer product companies.
CLICK HERE TO READ MORE.
Categories like FMCG, home to drive e-commerce penetration in future.

When Sanjiv Mehta assumed the CEO and MD roles at Hindustan Unilever in late 2013, the Indian subsidiary of Unilever Plc was doing reasonably well. In the 10 years since, its market capitalization has quadrupled from ₹1.33 trillion to ₹5.98 trillion, as the company reaped the benefits of a growing economy.
CLICK HERE TO READ MORE.
Saffola now a ₹2,000 crore-plus brand, says Marico CEO; weighs in on inflation
Witnessing a promising growth in its food business, Marico's master brand, Saffola's worth crossed the ₹2,000 crore mark, said Marico MD & CEO Saugata Gupta.
CLICK HERE TO READ MORE.
Rohit Agarwal on why one should be positioned in traditional FMCG now

Traditional FMCG is the way people should position themselves. The reason being talked about is that there is likely to be a slowdown on the discretionary side.
CLICK HERE TO READ MORE.
WoW Momo appoints Mithun Appaiah as CEO of FMCG business
QSR brand WoW Momo Foods Ltd. has appointed Mithun Appaiah as the CEO of their FMCG business. He holds an MBA in Business Administration and Management from IFIM Business School Bangalore and was the topper in marketing.
CLICK HERE TO READ MORE.