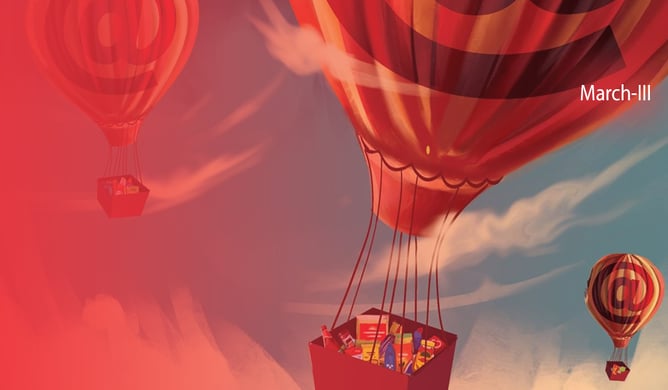 After more than six quarters of subdued performance in many segments, rural demand has made a comeback. Initially, consumers suffered significant earnings losses due to the pandemic, and subsequent record-high inflation compounded their struggles. However, since January, we've seen some improvement in consumption, with sales either stabilizing or declining at a slower rate. This trend has closely followed the decline in inflation. In the wake of the pandemic, the fundamentals of the retail landscape have shifted, prompting companies to invest in digital transformation to remain competitive and relevant. With the changing dynamics of consumer behavior, digital channels have become increasingly important, and retailers are re-evaluating their strategies to ensure they can serve customers effectively in this new reality.
This week's edition of "Indian Retail at a glance" highlights How legacy FMCG companies staged a comeback in their battle with new-age brands by investing in data-led strategies, acquisitions and premium product portfolio? Why FMCG is hopeful for bouncing back in rural market?
Why the FMCG industry must embrace regional languages
Although approximately 95% of the content is in English, only 10% of the Indian population is fluent in the language. As India's Tier 2 and Tier 3 populations become more digital, there is a demand for content to be created in vernacular languages. Brands now have no choice but to go for local languages.
CLICK HERE TO READ MORE
FMCG industry hopeful of rural market bouncing back in coming quarters
FMCG industry is hopeful of rural sales to improve in the coming quarters, while prices of some products could come down as inflationary pressure has started cooling down.
CLICK HERE TO READ MORE.
As Hindustan Unilever gets new CEO, what it means for the FMCG stock?
Shares of Hindustan Unilever Ltd (HUL) rose marginally on the BSE in Monday's early deals as the company has appointed Rohit Jawa as new chief executive and managing director (MD & CEO) for a 5‐ year period and he will succeed Sanjiv Mehta, who has been serving for the last 10 years.
CLICK HERE TO READ MORE.
Tata Consumer Products to continue focusing on the FMCG segment, says Puneet Das - President
Tata Consumer Products will continue its focus on the FMCG segment and will continue being in the product space, said Puneet Das, President - Packaged Beverages.
CLICK HERE TO READ MORE.
Return Of The FMCG Giants
OVER 25% OF DEMAND for Hindustan Unilever (HUL) has come from digital channels in the past year. The ₹52,446 crore revenue fast moving consumer goods (FMCG) company has also launched five digital-first beauty brands. The company's expanding online presence is reflected in its B2B app, Shikhar, which now has over one million retailers.
CLICK HERE TO READ MORE
Digital & Tech 'Propel' Retail and FMCG Sectors to Reinvent in the New Normal
As FMCG and retail brands rebound post-pandemic with increased consumer spending, there is an evolving consumer behavior influenced by technology and digital providing quick access, delivery, and convenience, and consumption patterns are more nonlinear backed with constant connectivity.
CLICK HERE TO READ MORE
Consumer companies see green shoots in rural belt in February
Consumer goods companies saw green shoots in rural India in February with volume sales growth for many firms, raising hopes of a full recovery for the worst-affected market during the Covid-19 pandemic. CLICK HERE TO READ MORE.