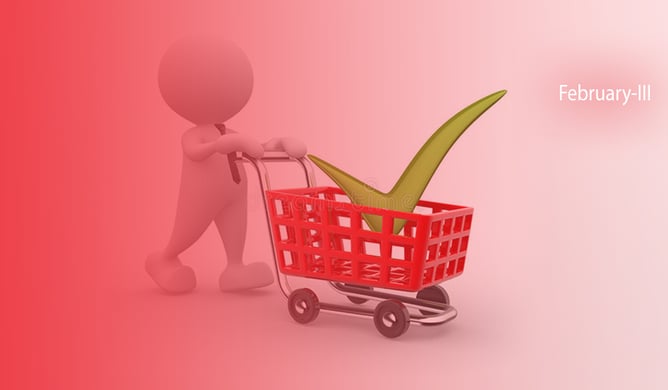 Analysts anticipate that the Indian Fast Moving Consumer Goods (FMCG) industry will reach $220 Billion by 2025. This is due to the increased consumer demand and a surge in the number of product categories. To make the management of large-scale decisions easier, FMCG leaders are integrating Artificial Intelligence (AI) into their retail operations. Inflation, elevated labor costs, and the competition from Direct-to-Consumer (D2C) brands are making it necessary for FMCG companies and retailers to optimize their retail operations for efficiency. India is currently experiencing a strong resurgence, while some of the larger economies are facing more difficult challenges. If companies want to remain competitive in the long-term, they must continue to grow in India.
This week's edition of "Indian Retail at a glance" highlights How Paralleldots Is Utilising AI To Impact The FMCG Industry? How competition brings out the best in a FMCG company? Why India's ad spent to grow drastically in 2023?
Indian ad spends to grow 15.5% in 2023, will rank 8th globally.
Domestic advertising expenditure (adex) in the current calendar year will grow at 15.5 per cent to touch Rs 1.46 trillion, according to media agency GroupM's latest forecast released Tuesday. The double-digit advertising growth will push India to the eighth position globally in terms of ad markets, from ninth last year, underpinning the consistent rise in adex over the last few years, the agency said.
CLICK HERE TO READ MORE.
HUL Ties Up With Coaching Beyond To Promote Promising Women Cricketers
In keeping with the company's corporate social responsibility mission, this partnership with Coaching Beyond recognises and continues HUL's endeavours to advocate health, gender equality and skill development by extending support to young talent in cricket.
CLICK HERE TO READ MORE.
How Paralleldots Is Utilising AI To Impact The FMCG Industry
The Indian FMCG market is projected to grow up to $220 Billion by 2025. With rising consumer demand and increasing product categories, leaders are now supplementing their retail operation with an AI tech stack to simplify large-scale decision-making.
CLICK HERE TO READ MORE.
Competition brings out the best in us: HUL CMD
When Sanjiv Mehta assumed the CEO and MD roles at Hindustan Unilever in late 2013, the Indian subsidiary of Unilever Plc was doing reasonably well. In the 10 years since, its market capitalization has quadrupled from ₹1.33 trillion to ₹5.98 trillion, as the company reaped the benefits of a growing economy.
CLICK HERE TO READ MORE.
FMCGs find themselves fighting post-pandemic rural demand woes
The third quarter (Q3) results rolling in from most FMCG companies show they are facing declining demand in their rural markets, in sharp contrast to urban demand. According to retail intelligence firm Bizom the FMCG sales in the rural markets showed a decline of 0.2%.
CLICK HERE TO READ MORE.
Nestle's Q4 revenues may rise up to 17% YoY, agri-inflation to dent margins
FMCG major Nestle India is likely to register up to 17.5 per cent year-on-year (YoY) revenue growth to Rs 4,394 crore in the fourth quarter of CY22 (Q4CY22), expect analysts.
CLICK HERE TO READ MORE.
Patanjali to focus on high-margin premium products
Patanjali Foods, formerly Ruchi Soya Industries, which sells biscuits, edible oil, soya-chunks and honey will launch more high-margin premium products, including cookies, vitamin-gummies and millet-based foods in the next two quarters.
CLICK HERE TO READ MORE.