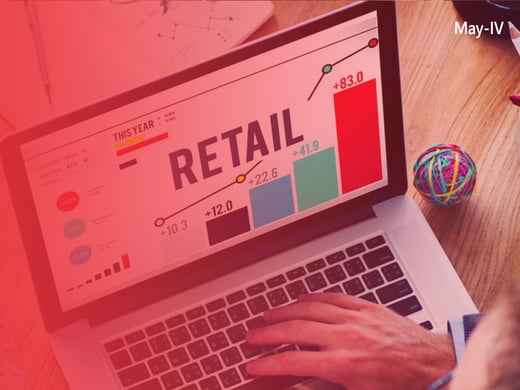 It is the last week of Lockdown 4.0 and the planes are back in the air. Amidst news of companies starting production there are reports of labour shortage, questions on practices, etc. Let's take a look into the week that has gone by and see how FMCG & Retail made sense of the chaos
India's FMCG market contracts 34% in April amid Covid-19 outbreak
Traditional trade reported a steeper drop than modern trade according to Nielsen.
CLICK HERE TO READ MORE
How will Indian Consumers buy in the post COVID world
Businesses are eagerly exploring how consumer behaviour is going to change after the lockdown.
CLICK HERE TO READ MORE
FMCG's hope for rural sales to grow
Firms anticipate big-city consumers to opt for large size products while in villages value pack will rule.
CLICK HERE TO READ MORE
JioMart goes live in 200 cities post-Mumbai pilot
Following the success of a pilot in Mumbai, JioMart is live in cities such as Bengaluru, Delhi, Kolkatta, etc.
CLICK HERE TO READ MORE
Retail, fast food biz reboot faster in small towns
Small towns are leading the way in helping retailers and quick service restaurants restart business after nearly two months of closure.
CLICK HERE TO READ MORE
Firms use COVID is Launchpad for new products, services
For marketers every crisis is also an opportunity giving rise to new products to cater to specific needs.
CLICK HERE TO READ MORE
As lockdown starts opening up, sales of immunity-boosting foods double; FSSAI issues guidelines
Sales of immunity-boosting foods have shot up by an estimated 20-40%.
CLICK HERE TO READ MORE
Organized retail loses Rs 90k cr in 2 months, SCAI seeks adequate relief
The Shopping Centres Association of India (SCAI) on Monday said the organized retail sector has lost over Rs 90,000 crore in the last two months, owing to the lockdown, and market players need much more than the repo rate cut and the loan moratorium extended by the RBI.
CLICK HERE TO READ MORE
Supplies of smartphones, tablets, laptops hit due to lower production & distribution workforce
Brands like Apple, Xiaomi, Oppo, Vivo, and Realme are facing supply issues with operational plants running at 30-35% capacity and several warehouses are not able to operate normally.
CLICK HERE TO READ MORE
ITC to spice up FMCG portfolio with the buyout of Kolkata-based Sunrise Foods
ITC buys eastern India market leader Sunrise Foods.
CLICK HERE TO READ MORE