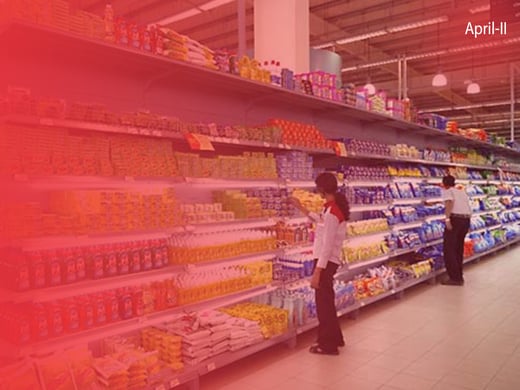 Industries across the globe have been talking about the impact of the pandemic on their business. More importantly, perhaps, they have been thinking about how to prepare for the longer-term implications and remediate the shorter-term shocks. Let us go through this week's "Indian Retail at a Glance" to understand how retail scored in the past week.
The Future of Online FMCG Segment in India
E-commerce in India has seen a big jump in its approach and processing. The traditional e-commerce set-up has now taken a 360-degree turn as compared to what it used to be a few years back. To be precise, the segment is seeing an impactful difference every year.
CLICK HERE TO READ MORE
Strong growth of FMCG companies in Q4 will likely be a mirage
India's largest FMCG firms, including those with high exposure to rural markets such as Hindustan Unilever (HUL), Dabur and Emami, are waiting for a boost in rural demand to help revive sluggish growth in volumes and earnings.
CLICK HERE TO READ MORE
FMCG companies step up supply amid fresh curbs in states
FMCG firms have stepped up frequency of supplies to the market and distributors in anticipation of more restrictions in the next few weeks as India battles a surge in covid-19 cases.
CLICK HERE TO READ MORE
FMCG manufacturers stress need for deploying industry 4.0 for sustained growth
The exponential rise in e-commerce volumes and new consumption patterns have had an unprecedented and lasting impact on businesses. Faster and shorter demand cycles have created an urgent need for flexibility and agility in logistics. Retailers have realized this and are now deploying advanced technologies to strike the right balance between customer delivery expectations and sustaining their own profitability.
CLICK HERE TO READ MORE
'E-commerce growth in tier-2, 3 cities outpace tier-1 Indian cities'
Smaller Indian cities are now accounting for a bigger volume of e-commerce sales. E-commerce growth in tier 2 and tier 3 cities in India is outpacing that of tier 1 cities.
CLICK HERE TO READ MORE
Kirana retailers better prepared for COVID-19 second wave
Though the second wave of the COVID-19 virus is considered to be more lethal than the first, the 15-million-strong network of kirana stores as well as consumers shopping there seem to be far more resilient than last year.
CLICK HERE TO READ MORE
Fresh COVID curbs: Consumer goods companies see stocking up signs
Kirana stores and supermarkets say that they have seen a 25 percent spike in weekday grocery shopping volumes, mainly due to weekend lockdowns being imposed in states such as Maharashtra and to avoid crowds over weekends.
CLICK HERE TO READ MORE
Big Bazaar to METRO Cash & Carry, how FMCG retailers are using lockdown lessons to fight second Covid wave
Applying the lessons learnt from the Lockdown, the companies are ensuring a minimum disruption in their supply chains and are reaching out to customers directly after getting orders through portals, app, or social media platforms such as WhatsApp.
CLICK HERE TO READ MORE
Walmart to build massive India warehouse with billionaire Gautam Adani
The tie-up marks the entry of Adani, India's fastest-rising billionaire, into the three-way fight for domination of the online shopping space, which is estimated to generate $200 billion in sales by 2026.
CLICK HERE TO READ MORE
Last-minute purchase of essentials spikes ahead of weekend lockdown
With confusion over if people would be allowed to visit shops in their neighbourhood and if the essential shops would remain open or have enough stock, many residents went for panic-buying ahead of the weekend lockdown in the city.
CLICK HERE TO READ MORE
LG India reports its highest ever quarterly revenue in Jan-Mar at Rs 5500 crore
India's largest home appliance maker, LG India has recorded its highest ever revenue in a single quarter in the just concluded January-March period at Rs 5,500 crore from sales of appliances.
CLICK HERE TO READ MORE
WhatsApp is adding new shopping features to its web app
WhatsApp is adding shopping features to its web app, making it easier for people to browse for products. Businesses too will be able to create and manage their catalog from the desktop and not just mobile phones.
CLICK HERE TO READ MORE