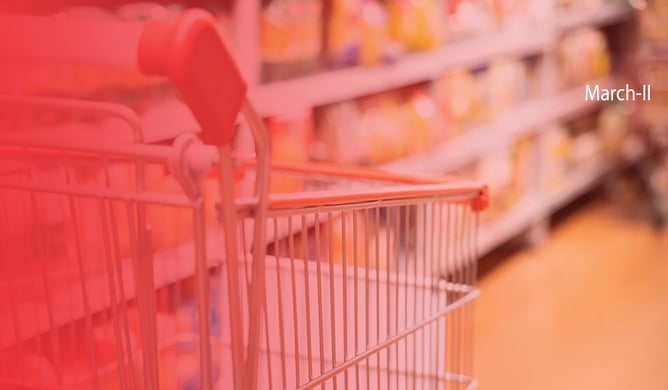 Higher Inflation levels during 2021 have led to three consecutive quarters with double-digit price increase resulting in consumption slowdown in urban markets, and consumption degrowth in Rural markets. There has been an increment in FMCG Sales in February driven by higher sales of commodities and packaged and companies are turning towards Social Media for customer feedback & to launch new products and variants. This would drive designing their strategies in sync with consumers expectations.
This week's edition of "Indian Retail at a glance Glance" explains How High Inflation Likely To Bite Into FMCG Sector's Volume Growth In 2022. It also emphasises for companies to Up their Social Media game to connect directly with consumers for their Feedback and opinions.
FMCG sales grow in February, But home care products decline
Demand for fast-moving consumer goods, electronics and lifestyle products recovered sharply in February, rebounding from January when surging Covid-19 infections and restrictions to control the third wave had impacted sales.
CLICK HERE TO READ MORE
War impact: FMCG companies hike prices in Feb as raw material prices pinch
Fast-moving consumer good (FMCG) companies hiked prices of soaps, detergents, toothpastes, shampoos and select food products like coffee, biscuits and juices in February as raw material prices continued their upward trajectory.
CLICK HERE TO READ MORE
FMCG companies turn to social media for new product development
A few years ago a charcoal soap or an onion hair oil would typically be a product found on a new-age direct-to-consumer (D2C) company's website. Now, these innovations can be found on the shelves of supermarkets and even daily kirana stores.
CLICK HERE TO READ MORE
Making Offline Store a Smart Store: A Level Playing for Kirana Stores with E-commerce Giants
India has more than 12 million Kirana stores, and about a decade ago, these little shops were anticipated to vanish owing to increased competition from e-commerce giants. Time passed, and most Indian households started relying on online shopping, including for daily groceries, until the pandemic struck. When India went on lockdown overnight, almost all e-commerce players struggled with many local constraints that resulted in delayed services.
CLICK HERE TO READ MORE
Hindustan Foods: M&A , Capex for Topline Boost
Contract manufacturing firm Hindustan Foods Ltd (HFL), whose business spans personal care, food and beverages, home care and leather, is leveraging the India consumption story by expanding through mergers and acquisitions (M&A) and quick capacity expansion.
CLICK HERE TO READ MORE
Amway India Commits To An Equal Future For All: Pledges To Encourage, Enable And Empower Women Entrepreneurs
International Women's Day (IWD) (March 8) is a worldwide celebration of women's historical, cultural, economic, and political accomplishments. In line with the International Women's Day 2022 theme – #BreakTheBias, Amway India, one of the country's leading FMCG direct selling companies continued its commitment to an equal future for all.
CLICK HERE TO READ MORE
FMCG Consumption Continues To Decline In Rural Areas In Dec Quarter: NielsenIQ Report
India's fast-moving consumer goods (FMCG) industry grew 9.6 per cent in the October-December quarter over last year due to a double-digit increase in prices for three successive quarters, according to industry data released by NielsenIQ.
CLICK HERE TO READ MORE