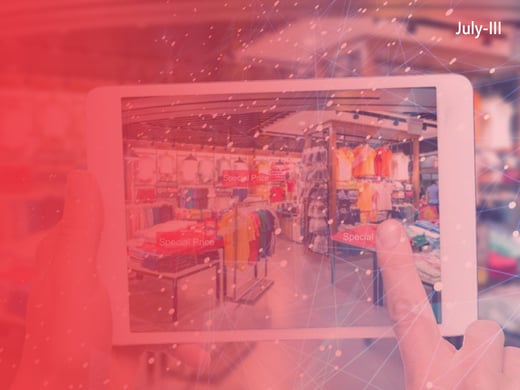 Demand has picked up with the easing of restrictions but the prevalence of localized lockdowns supply chain still has some way to go before getting back to pre-COVID levels. That being said, innovations during the pandemic has opened new pathways and channels which are here to stay. New products, solutions, and services continue to launch at great speed. With the contradictions of disruption & innovation, slump & growth in perspective, let's take a look at the week that was:
COVID-19: A global view of how consumer behaviour is changing
Consumer behaviours are settling into a new normal, as people everywhere learn to live with the reality of COVID-19 and as more countries reopen parts of their economies.
CLICK HERE TO READ MORE
Rural leads the way back for FMCG
FMCG growth is being propelled by rural more than the urban population, mainly due to the huge migration of people from metros to smaller towns and villages.
CLICK HERE TO READ MORE
Parle, Amul, Clinic Plus shampoo top 3 FMCG brands in India: Report
Findings of the latest edition of the Kantar Worldpanel's Brand Footprint Report released on Friday shows that Parle, Amul, and Clinic Plus shampoo are the top three fast-moving consumer goods (FMCG) brands in India.
CLICK HERE TO READ MORE
The New Age of Retail – intriguing perspective by CEO of CPM India
As we come to the end of 2025 and talk about the next five years in retail and consumers, let's reflect on how the last five years came to become perhaps the most interesting years Indian retail has ever seen.
CLICK HERE TO READ MORE
According to Kantar, the FMCG sector to grow 4-5% in 2020
Covid-19 prompted households to buy more during every trip to the grocery store even as they reduced their frequency of trips.
CLICK HERE TO READ MORE
According to Sanjiv Goenka, Indian online grocery market can exceed Rs 22,500 cr sales in 2020
The Indian online grocery market could exceed sales of about Rs 22,500 crore in 2020, a substantial 76 percent jump over the previous year, Spencer's Retail Chairman Sanjiv Goenka said.
CLICK HERE TO READ MORE
In COVID-19 world, digital distribution platforms become a strong alternative for FMCG majors
The coronavirus lockdown and the distribution disruption thereof, has forced consumer product companies to take a hard look at their distribution strategy.
CLICK HERE TO READ MORE
ITC, Godrej, Dabur, Emami report robust sales in rural areas
Leading FMCG players such as ITC, Godrej, Dabur, Emami, and Marico are witnessing robust sales in rural and semi-urban markets, bolstering hopes of a speedy recovery from the impact of the COVID-19 crisis.
CLICK HERE TO READ MORE
British retailer Tesco & Tata infuse fresh capital into JV, Trent Hypermarket
Tesco once again wants to expand the food and grocery retailing business in India, which had lost steam over the past few years to Reliance and Amazon-Samara-owned supermarket chain more in the west and south.
CLICK HERE TO READ MORE
According to D-Mart, stores recover 80 percent of pre-COVID sales
Avenue Supermarts Ltd, which owns and operates retail chain D-Mart, on Saturday said it has recovered 80 percent of its business in the stores, wherever it has been allowed to operate unhindered.
CLICK HERE TO READ MORE
Britannia beats coronavirus blues with this much sales growth; outshines peer FMCG firms amid lockdown
Biscuit and bread maker Britannia is an outlier with its sales and PAT estimated to be in double-digit during the lockdown even while FMCG companies, in general, remained downbeat due to coronavirus.
CLICK HERE TO READ MORE
Neighbourhood gets retail stores on wheels
Reliance Brands, which sells several brands, including Brooks Brothers, Burberry, Jimmy Choo, and Gas, has asked the staff at its stores to showcase products to consumers through video calls with Zoom and MS Teams.
CLICK HERE TO READ MORE