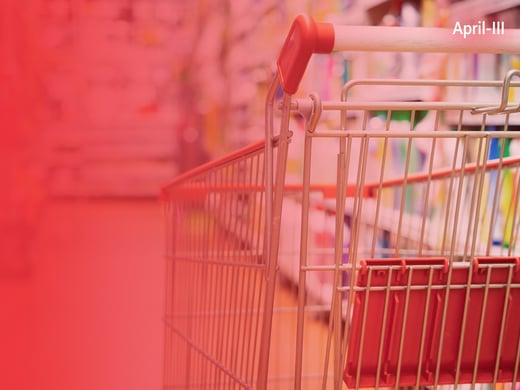 A week of Lockdown 2.0 has gone by. India Inc. is planning on getting ready to get the economy rolling. Take a peek onto how Retail India is preparing for the same.
Nielsen Study provides a look into the impact of COVID 19 on FMCG India
The second edition of Nielsen's covers the changing consumption patterns due to COVID 19.
CLICK HERE TO READ MORE
FMCG sales take a hit in 4th week of March
After posting double-digit in the first 3 weeks, FMCG sales decline sharply in week 4.
CLICK HERE TO READ MORE
Walmart goes on a hiring spree
Walmart said it will hire 50,000 more people in their stores and distribution centers to meet the surge in demand for groceries etc.
CLICK HERE TO READ MORE
MSME's stare at labor and Raw Material supply issues
As the graded lifting of the lockdown commences, MSME's will face labor and raw material shortages.
CLICK HERE TO READ MORE
New CEO Sunil D'Souza of TCP aims to make Tata Consumer nimble
Taking charge of TCP amidst COVID 19, D'Souza looks to scalability through acquisitions and organic growth.
CLICK HERE TO READ MORE
Are FMCG companies ready for digital growth explosion in rural markets?
With the Internet penetrating most of rural India, there lies a huge potential for growth.
CLICK HERE TO READ MORE
Imported Raw Material scarcity hits FMCG India
While ports have been kept operational, limited evacuation of Raw materials to production factories is creating hurdles.
CLICK HERE TO READ MORE
The retail industry expects to recover in 6 months
More than 70% of retailers expect to recover in 6 months post-COVID 19.
CLICK HERE TO READ MORE
How retailers are preparing for post-COVID 19 era
From De-risk strategies to budget reallocations, Retail India prepares for Post COVID 19.
CLICK HERE TO READ MORE
Kishore Biyani gets a breather
Lenders give a conditional nod to restructuring loans worth $600 million dollars.
CLICK HERE TO READ MORE
Non-essentials goods delivery by e-coms to be prohibited
The government's U-Turn on home delivery of non-essential goods will leave consumers disappointed according to Amazon.
CLICK HERE TO READ MORE
Fashion retailers seek govt. help
With zero revenue and only outgoings, fashion retailers look to the government for aid.
CLICK HERE TO READ MORE
March was a catastrophic month for US retailers too
As stores shut due to COVID 19 restrictions, March saw a record plunge in retail sales across the US. A long shutdown could leave lasting changes.
CLICK HERE TO READ MORE