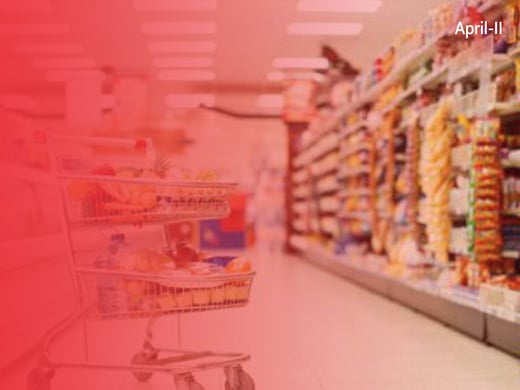 A Very Happy Easter, Baisakhi and New Year! The past week has seen signs of hope amidst the lockdown. With the extension looming, let's take a look as to what is the latest in the Retail world.
Lockdown extended till 3rd of May
The honorable Prime Minister has extended the lockdown until May 3rd, with a possible relaxation if the situation permits post 20th April.
CLICK HERE TO READ MORE
Industrial Manufacturing should begin operations
The DPIIT letter recommends that 16 sectors be allowed to resume operations with conditions and limited capacity.
CLICK HERE TO READ MORE
Local Brands get a break during the lockdown
As FMCG majors struggle with logistics, private labels & local brand space on shelves at homes and Kirana shops.
CLICK HERE TO READ MORE
Suraksha Stores: 20 lakh essential shops planned by the government
Each FMCG major will be allocated one to two states to execute this plan. Talks are ongoing.
CLICK HERE TO READ MORE
GCPL partners with Zomato, ShopKirana & Zoomcar for delivery of essentials
GCPL is the latest FMCG Major to explore the delivery partner route after ITC, Britannia & Marico.
CLICK HERE TO READ MORE
The Lockdown is a reset button for the FMCG Sector
According to Mayank Jalan, CMD, Keventer Agro, consumer buying patterns will change post-COVID 19.
CLICK HERE TO READ MORE
Liquor Bodies want states to allow home deliveries
The CIABC has written to the govt. to allow home deliveries of liquor and brought their attention to the huge loss in excise due to the lock down.
CLICK HERE TO READ MORE
China's loss could be India's gain
With western countries looking to diversify their manufacturing from China & Japan, India could be a fertile ground.
CLICK HERE TO READ MORE
Durables & Electronics to feature high on shoppers list post lockdown
According to Croma, Products such as laptops, smartphones, AC's etc. will now be important than ever.
CLICK HERE TO READ MORE
Capacity utilization drops due to logistical issues
Companies such as HUL see a 40% drop in sales and production amidst the lockdown.
CLICK HERE TO READ MORE
Marico, GCPL Q4 paints a gloomy picture
Demand blues get worse due to COVID 19 and commentary of FMCG makers are changing too.
CLICK HERE TO READ MORE
While calling the situation "Fairly Bad", Dabur remains hopeful of recovery in 3 months
In 3 months, Amit Burman, Chairman, Dabur sees at least 40 – 50% consumption capacity for Dabur.
CLICK HERE TO READ MORE
Tata Consumers Products (TCP) partners with Flipkart for deliveries
The blurring of lines between Online & Offline continues with the latest announcement.
CLICK HERE TO READ MORE
Retailers want their migrant workers back to augment the supply chain
Retailers and consumer companies want govt. to run special buses and trains to get the migrants back.
CLICK HERE TO READ MORE