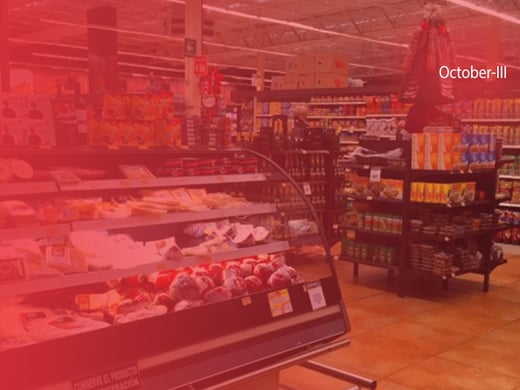 The ongoing festive season has planted new hopes in businesses. As majority of the citizens are vaccinated by now, retailers are confident enough about this Diwali's record-breaking sales. While the consumer demands keep changing, retailers leave no stone unturned to fulfil them. Let us go through this week's "Indian Retail at a Glance" to further understand how retail fared in the past week.
FMCG sales set for double-digit rise in Q2
FMCG companies such as Hindustan Unilever, Nestle, Marico, Tata Consumer, Dabur & Godrej Consumer are expected to have risen at double-digit pace in the September quarter due to recoveries in key segments like packaged foods and personal care as well as higher rural demand.
CLICK HERE TO READ MORE
The Evolution of the Food Retail Landscape
As time passes, the lifestyle needs and wants of consumers change, and every industry tends to evolve with these changes adhering to what customers expect of it.
CLICK HERE TO READ MORE
How Consumers Redefined the App Experience and What Brands Should Do to Ensure Business Success
Ever since the COVID-19 pandemic happened, people have come to rely on digital services to cope with the most challenging period of their lives. Apps have been a lifeline to normality, enabling people to connect with their loved ones, access emergency services, and work and learn remotely.
CLICK HERE TO READ MORE
Driving consumer advocacy through content
Online consumers today can get the brand they want in any nook and corner, e-commerce companies have taken over the distribution mantle and even a small brand today can boast of PAN-INDIA presence with no brick and mortar obligation or investment requisite.
CLICK HERE TO READ MORE
Preparing your Tech Team for the Diwali Season Sales
The COVID-19 pandemic lockdowns have transformed buying behavior, with consumers losing their inhibitions around online purchasing and gaining confidence in the choice and convenience that online shopping offers.
CLICK HERE TO READ MORE
Flipkart Wholesale sees 70% e-commerce adoption by kiranas at festive sale
Flipkart Wholesale continues its focus of digitising Kiranas and the retail ecosystem. It saw a 30 per cent increase in the number of kirana members on the platform this Big Billion Days.
CLICK HERE TO READ MORE
P&G to invest Rs500 crore to drive India's rural growth story
Procter & Gamble will invest Rs 500 crore through its 'Rural Growth Fund' to accelerate growth in the Indian rural market, home to more than 800 million people, whose purchase behaviour is largely linked to farm output.
CLICK HERE TO READ MORE
Tata Coffee Q2 net profit rises 26.55% to Rs 53.66 cr
Tata Coffee reported a 26.55 per cent jump in consolidated net profit for the September quarter at Rs 53.66 crore, driven by value-added businesses.
CLICK HERE TO READ MORE
Mother Dairy to set up 700 customer touchpoints across Delhi
Mother Dairy, a wholly owned subsidiary of National Dairy Development Board (NDDB) has announced its plans to accelerate its expansion by opening 700 consumer touchpoints in NCT (National Capital Territory) of Delhi led by kiosks and franchise shops by 2023, fiscal year.
CLICK HERE TO READ MORE