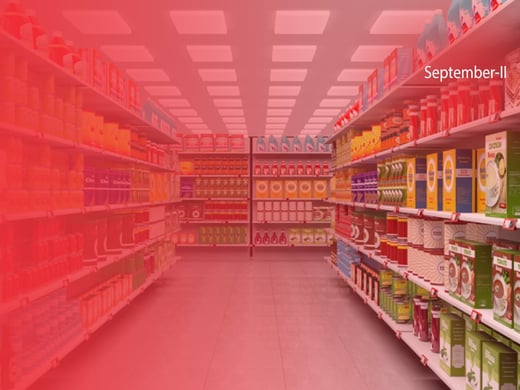 The consumerization of industries has led to a paradigm shift in the way business is conducted across sectors as they are increasingly adopting digitization. The FMCG & Retail sector which is close to savvy and demanding consumers, has manifold supply chain complexities and is fragmented. A vast country with far-flung markets, diverse consumer segments and traditional supply chains add to the challenges in smooth digital adoption for this sector. Meanwhile, let us see how retail fared in the past week.
Brand and Strategy - two sides of the same coin
Brands, by definition, are long term platforms. But strategies can shift with changing times. As strategies are relooked at and tweaked, successful organizations should also revisit alignment with the brand. And make tweaks on the brand elements as well, if necessary.
CLICK HERE TO READ MORE
Safety on Priority
With malls getting back on feet once again, across India, more than the footfalls or sales the team behind each shopping centre is more concerned about customer safety. They are observant of the ongoing norms and in preparation of the festive sales are gearing up to support the customer with best support.
CLICK HERE TO READ MORE
Smartphone sales grew 10.8% in Q2 2021
Overall global mobile phone sales grew 10.2 per cent despite supply constraints due to Covid-19 related production disruption and component shortages.
CLICK HERE TO READ MORE
Future Consumer focusing on Digital First model across brand activities
Expecting consumer behaviour of shifting to online shopping due to the COVID-19 pandemic to remain in the long term, Future Consumer Ltd (FCL) is focusing on changing orientation of all business and brand activities to make them Digital First.
CLICK HERE TO READ MORE
Brands get responsible on recycling and reusing
A host of FMCG firms are stepping on the gas when it comes to initiatives that reduce packaging waste. In a move that will eliminate 30 million plastic straws annually, Nestlé India has decided to switch to paper straws for Milo and Nescafe cold coffee beverage portfolio.
CLICK HERE TO READ MORE
PepsiCo India launches 'tidy trails' in Mathura
The initiative has flagged off and a dedicated mobile van has been deployed that will visit more than 400 shops to create awareness and collect post-consumer plastic waste.
CLICK HERE TO READ MORE
The story of a potato biscuit-chips fusion — how a Bangladeshi brand mesmerised India
In recent years, one Bangladeshi manufacturer, PRAN, has become extremely popular in India because of its spicy and savoury offerings, topping the market in East India even as it expands its reach to other regions of the country.
CLICK HERE TO READ MORE
Tata Consumer Products rolls out new branding for Tata Soulfull range
The company has integrated the Tata logo into the Soulfull portfolio, subsequent to Tata Consumer Soulfull Pvt Ltd becoming a 100 per cent subsidiary of Tata Consumer Products in February 2021.
CLICK HERE TO READ MORE
PepsiCo enters into a brand promotion deal with Netflix
With urban consumers increasingly switching to OTT streaming platforms from television viewing, beverage and snacks maker PepsiCo has signed a brand association agreement with Netflix, one of the first and biggest such deals across OTT platforms in India.
CLICK HERE TO READ MORE
Xiaomi beats Apple to become top wearable brand in the world
Xiaomi overtook Apple to become the top-shipping wearable brand in Q2, 2021. It scooped up to 19.6% of the global market share, followed by Apple with 19.3% market share.
CLICK HERE TO READ MORE