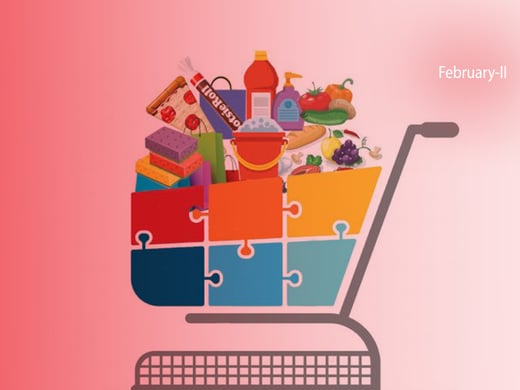 The budget by the government is aiming to facilitate ease of doing business and enhance consumption by providing employment opportunities, boosting infrastructure, focusing on technology, according to experts. 360-degree approach to be conceptualized and created to leverage on the future of E-Commerce in FMCG. E-commerce is increasingly becoming a 'play to win' channel as consumers shift here for convenience, price, and assortment with the added safety of being able to buy with just a click right from their homes.
This week's edition of "Indian Retail at a glance Glance" talks Growth in FMCG Market in the month of Jan'22 and Future of E-Commerce in FMCG Sales. Various Financial entities are showing the true potential of 'kirana shop owners' by providing empowerment through financial freedom and helping them to grow their business.
India FMCG market grows 10% in January: Report
The FMCG market in India grew 10 percent year-on-year (YoY) in January 2022, largely due to increased grocery and essentials consumption during the third COVID-19 wave in the country, The Economic Times reported.
CLICK HERE TO READ MORE

The Future of E-Commerce in Penetrating Sales of FMCG
Over the past two decades, the FMCG sector in India has witnessed remarkable transformation especially in terms of adopting online sales across different categories. Facilitated by changes in consumer behaviour, rapid urbanization, rising disposable incomes, and internet penetration, e-commerce has grown exponentially providing growth opportunities to both big and small players in the FMCG industry.
CLICK HERE TO READ MORE
Budget 2022 Will Strengthen Foundation Of FMCG Sector For Long Term: Experts
Talking about the union budget and boosting demand, as far as the FMCG sector is concerned, Akshay D'Souza, Chief of Growth and Insights, Bizom, a retail intelligence platform said, "An up capex of 35.4 per cent from Rs 5.54 lakh crore to Rs 7.5 lakh crore will boost direct and indirect employment. This will help enhance demand over the medium term. The government is mainly focussing on medium to longer-term measures rather than short term appeasement fixes to drive demand."
CLICK HERE TO READ MORE
Rural trend for FMCG companies: Sale value up, but volume down
The December quarter earnings of FMCG companies point to an unusual trend in rural markets: marginal or better-than-urban sales growth that is visible in value terms but amid falling demand that is evident in thinning volumes.
CLICK HERE TO READ MORE
ePayLater's new campaign #TarakkeeKePankh empowers kirana shop owners
ePayLater, a buy now-pay later payments platform for retailers, has launched a new campaign #TarakkeeKePankh showing the true potential of 'kirana shop owners' by providing empowerment through financial freedom. ePayLater had recently announced a strategic, creative and media partnership with Madison World. The team at Madison BMB has conceptualized and created an integrated campaign that has gone live.
CLICK HERE TO READ MORE
How businesses can effectively use IP rights to leverage brand equity
In India, after the Mergers & Acquisitions boom in 1980s and the liberalization of Indian economy in early 1990s, corporates in India came to terms with the importance of managing brands as one of the most valuable intangible assets.
CLICK HERE TO READ MORE
Godrej Consumer Products India CEO Sunil Kataria to leave, says management
Sunil Kataria, the chief executive officer of India and SAARC business at Godrej Consumer Products (GCPL), has decided to leave, the company's management informed at a post-earnings investor call on February 8.
CLICK HERE TO READ MORE
GCPL Q3 net profit up 5 pc to 527.60 cr, Net sales up 8 pc to Rs 3,302.58 cr
FMCG major Godrej Consumer Products Ltd (GCPL) on Tuesday reported a 4.93 per cent increase in consolidated net profit at Rs 527.60 crore for the third quarter ended December 2021. The Godrej group company had posted a net profit of Rs 502.80 crore in the October-December quarter of 2020.
CLICK HERE TO READ MORE