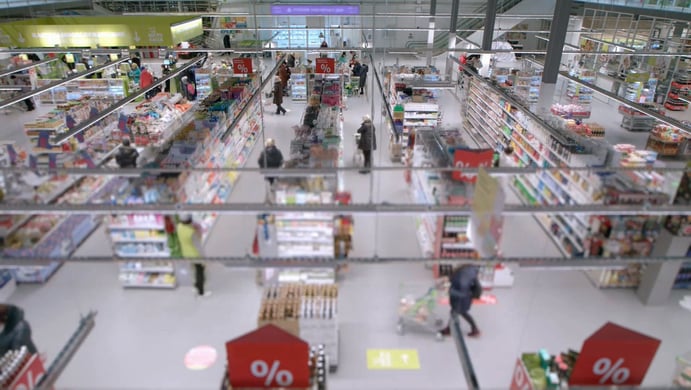 Welcome to CPM's monthly retail news roundup, Retail Intelligence. In these posts we will share some of the key highlights of the Irish retail industry and what this means for your business. With over 34 years of experience driving sales in the Irish market, at CPM we have a passion for retail and insights, so we hope you find this content useful. We would also love to hear what content you would like to see in the future so please feel free to contact us with any thoughts.
Irish retail sales rose during the final month of lockdown
Irish retail sales rose by 7.4% month-on-month in April, the final month of a strict lockdown, and were up by 90.1% compared with the same period a year ago when the economy…
€800m sales bounce expected as retail reopens, says Retail Ireland
Retail Ireland said retailers opening today were hopeful of a significant summer bounce in trade, with sales over the next month expected to be 40% higher than pre-pandemic times…
Grocery sales down but confidence rising as Ireland waits for green light to socialise
The latest figures from Kantar show that the Irish grocery market declined by 5.2% year on year in the 12 weeks ending 16 May 2021.
Positive mood as retail reopening begins: Retail Ireland
Retail Ireland, the Ibec group that represents the retail sector, has said retailers open for 'click and collect' and appointment shopping were reporting good trade, with appointment…
Irish Consumer Confidence at 23 month high
According to a report from the KBC Bank Ireland Consumer Sentiment Index, optimism over the reopening of society has driven Irish consumer confidence to the highest levels in 23 months.
54% of Irish consumers have holiday plans, says KBC Bank
According to responses to a special question added to the KBC bank consumer sentiment survey for May, Irish consumers do not plan to go wild in their holiday spending in 2021.
Buymie launches same-day grocery delivery service in Galway and Limerick
Grocery delivery provider Buymie, began offering grocery deliveries and full personal shopping services to over 190,000 Galway and Limerick residents earlier this week.
70% of hospitality businesses intend to reopen in June, despite 58% expecting to make a loss or just break even
Following a prolonged period of closure due to Covid-19 restrictions, 70% of hospitality businesses, including restaurants, cafes and pubs, intend to open to the public in June as…
90% of Irish consumers happy to test food at home as an alternative to 'in-store tastings'
Almost 90% of Irish consumers are happy to test food and drinks at home as an alternative to traditional supermarket taste testing, according to research undertaken by food and drinks…
SuperValu continues to hold largest share of Irish grocery market
SuperValu continues to hold the largest share of the grocery market at 22.2%, the latest figures from Kantar show. Its growth was primarily driven by shoppers returning to the store more…
SuperValu encourages Irish shoppers to buy Irish and support local for Guaranteed Irish Food Month
To mark Guaranteed Irish Food Month, SuperValu is partnering with Guaranteed Irish to encourage shoppers to buy Irish and support local this June.
Tesco launches Great Irish Bake in aid of Temple Street
Tesco is calling on shoppers across Ireland to support this year's 'Great Irish Bake' fundraiser for Temple Street Children's Hospital.
Tesco Ireland unveils home-recyclable potato packaging
Tesco has become the first retailer in Ireland to make its packaging for 1kg new season potatoes fully recyclable while also reducing the amount of paper used in its 2.5kg potato packaging.
Lidl becomes first nationwide supermarket to sell COVID-19 Antigen Tests
Lidl Ireland has today announced it will be the first nationwide supermarket to sell COVID-19 antigen tests in stores across the country. The test will be available in 168 stores in Ireland…
Lidl offers chance to win a 'five-star hotel experience' at one of its stores
Lidl Ireland is offering its customers the chance to win a 'five-star hotel experience' at one of its stores. With intercounty travel restrictions set to lift in the coming weeks…
Aldi voted Ireland's most reputable supermarket
Irish shoppers have voted Aldi as the most reputable supermarket in Ireland according to the new RepTrak Ireland Report. The annual RepTrak Ireland survey measures the…
Aldi unveils revamped Kilrush 'Project Fresh' store
Aldi's Kilrush 'Project Fresh' store has reopened its doors to customers following an extensive renovation project which has seen the store completely refurbished.
Aldi confirms plans to open new store on Roches Street, Limerick city in 2023
Aldi Ireland has confirmed it will open a new store on Roches St, Limerick City in early 2023. The news comes as the supermarket was granted final planning permission by An Bord Pleanála.
Musgrave Marketplace invests €650,000 to support the reopening of hospitality
Musgrave Marketplace is set to invest €650,000 to support the reopening of Irish hospitality at the beginning of June. As part of this investment, Musgrave MarketPlace has launched…
SPAR reports global growth of 7.4% and retail sales of €39.8bn for 2020
SPAR International, has reported sales of €39.8 billion for the year ending 31 December 2020, representing a 7.4% increase in revenue at constant currency values.
Convenience retailer Spar has opened a new store in Galway's picturesque seaside resort, Salthill, situated on the northern shore of Galway Bay.
Sales at BWG Foods rise by over 3% to €874 million
BWG Foods grew group sales by more than 3% to €874 million in the six months to the end of March, The Irish Times has reported. BWG Foods is the owner in Ireland of the…
Costcutter supports Ireland's young athletes in new partnership with Triathlon Ireland
Retail group Costcutter is helping to foster a healthier future for Ireland's athletes through its support for Triathlon Ireland's youth programmes.
M&S outlines its plans ahead of retail reopening across the country next week
With retail reopening for the Republic of Ireland next Monday, 17 May, Marks & Spencer has outlined its plans to reopen all Clothing & Home space across its stores.
M&S to shut a third of core store estate over a decade
Marks & Spencer plans to have about 30% fewer combined clothing and food stores in 10 years' time as more sales shift online, but will still open new shops when prime sites…
M&S profit seen crashing 90% in 'lost year' of pandemic
Marks & Spencer is set to report on Wednesday a 90% slump in full-year profit after the COVID-19 pandemic hammered its clothing sales.