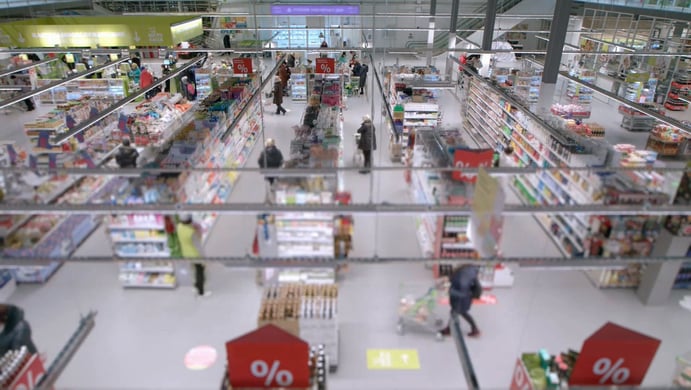 Welcome to CPM's monthly retail news roundup, Retail Intelligence. In these posts we will share some of the key highlights of the Irish retail industry and what this means for your business. With over 34 years of experience driving sales in the Irish market, at CPM we have a passion for retail and insights, so we hope you find this content useful. We would also love to hear what content you would like to see in the future so please feel free to contact us with any thoughts.
Irish Consumer Sentiment Ticks Back Up, Mood Still Guarded
Irish consumer sentiment improved marginally in August, largely but not entirely reversing last month's dip from a two-year high recorded in June, as the economy gradually emerged…
Supermarket grocery prices unchanged as sales fall on reopening of restaurants
Irish grocery prices were unchanged in recent weeks as sales at supermarkets slowed following the opening up of restaurants. That is the main finding from the latest survey…
Dublin's Retail Sector Shows 'Modest' Recovery As Restrictions Ease
Dublin's retail sector experienced a modest recovery in the second quarter of 2021, following an exceptionally difficult start to the year, research shows. The Mastercard SpendingPulse…
Grocery decline softens as shoppers stock up for staycations
The latest figures from Kantar show the grocery market declined by 3.9% during the 12 weeks to 8 August 2021, as life continued to edge back to normal in Ireland and indoor dining…
Grocery sales decline as people take advantage of eased restrictions at restaurants and pubs
The multi-billion euro Irish grocery market has shrunk by 3.9pc compared to a year ago as easing restrictions meant people could ditch home cooking for restaurant visits.
Retail spending in Dublin gets 5.1% boost, as Covid-19 restrictions ease
Consumer spending in Dublin has risen 5.1% with the easing of Covid-19 restrictions in the second quarter, a new report has found.
Charity shops report 'unprecedented' spike in sales since reopening
Charity shops have reported an "unprecedented" spike in sales since reopening in May as new and younger customers seek more affordable and sustainable items.
BWG Foods Reports 'Significant' Spike In Sales Of Sun Related Products
Leading retailer and wholesaler BWG Foods has reported a significant spike in sales across key categories related to sunny weather as shoppers take solace in the high temperatures recorded…
Retailers voice frustrations over indoor dining regulations
The Convenience Stores and Newsagent Association (CSNA) has spoken out against the "zero accommodation" granted to the convenience sector within the government's current indoor…
SuperValu Once Again Leads The Way As Ireland's Top Grocer
SuperValu once again captured the largest share of the grocery market this period at 22.6%, research showed. The latest figures from Kantar showed that customers visited the…
Tesco Raises Funds For Temple Street
Tesco is calling on shoppers across Ireland to support Children's Health Foundation Temple Street as it aims to raise funds for a much-needed EEG system costing €300,000.
Lidl Ireland Commits To Becoming Carbon Neutral By 2025
Lidl Ireland has announced its commitment to becoming a carbon neutral business by 2025, as well as industry-leading initiatives including launching a dedicated Supplier Engagement Programme..
Lidl Announces Plans To Open New Store In Corbally, Co. Clare Today
Lidl Ireland has announced its plans to open a new store in Corbally, Co. Clare today, 19 August. While the new store will create 30 permanent jobs, the discount retailer supported a…
Aldi And Deliveroo Announce Free Delivery On Groceries
Aldi and Deliveroo have partnered up to make rapid delivery of Aldi's groceries free from 30 of August until the 26 of September. Aldi and Deliveroo will remove the standard €4.50…
Aldi Unveils New Dunshaughlin Store, Creates 25 New Jobs
Aldi Ireland has announced the opening of its new store in Dunshaughlin, Co. Meath, creating 25 permanent jobs in the local area. The new store is Aldi's seventh to open in County Meath.
Aldi to cut over 2,300 tonnes of cardboard boxes from fresh meat and fish range
Aldi Ireland is removing all outer cardboard boxes from its fresh poultry, pork, beef, lamb and select fish lines. According to the retailer, the move will mean over 2,300 tonnes less...
Centra Stores To Stock 2021 All-Ireland Hurling Final Match Programme
Centra has announced that the 2021 All-Ireland Hurling final match programme will be available to purchase in selected Centra stores across Limerick and Cork. Fans can pick up a copy…
Musgrave MarketPlace Unveils New Food Emporium In Waterford
Musgrave MarketPlace, Ireland's wholesale supplier to foodservice, retail and SME businesses has officially unveiled a new Food Emporium at its outlet in Waterford, following a €1 million upgrade.
Marks & Spencer Lifts Profit Outlook As New Strategy Delivers
Marks & Spencer upgraded its profit outlook on Friday after shoppers returned to its food halls and went online for clothing, adding to signs that its latest turnaround plan is working.
Iceland Ireland reduces pre-tax losses by 27%
Iceland Ireland has benefitted from a return to home cooking during Covid-19 lockdowns with revenues increasing by 9% from €60.5m to €66m.
Circle K Unveils Renovated Bray Service Station
Circle K has today unveiled a newly renovated service station located at Brennanstown, Bray, Co. Wicklow. Circle K, Brennanstown will employ a total of 12 staff across full and part time…