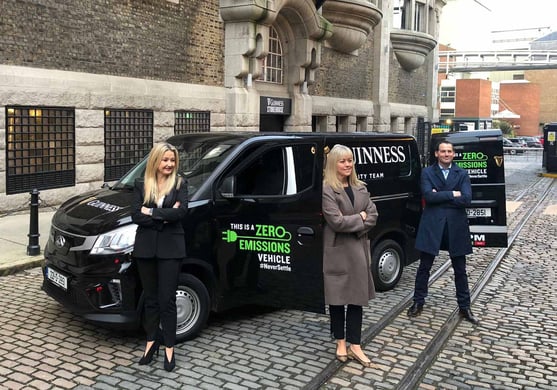 Guinness announces plans to introduce zero emissions transport
[January 2022] Recently Guinness announced it is introducing the first zero emission vehicles into its iconic quality fleet this summer. CPM Ireland have worked with Diageo since 2019 and are delighted to have collaborated with them to get this exciting new initiative up and running, by firstly sourcing the fleet and secondly the CPM Quality and Service team will now be delivering their quality programme to all hospitality outlets around the country in these emission free vehicles.
Diageo's initiative to introduce fifteen zero emissions vehicles by this summer and a total of by 104 by 2024 is part of Guinness's much wider 10-year sustainability action plan, Society 2030: Spirit of Progress, which outlines Guinness' commitment to delivering net zero carbon emissions across its direct operations and a reduction in indirect emissions by 50%. This summer, most of the drivers will be in and around the greater Dublin area and then it will be rolled out nationwide and across Northern Ireland. This is CPM's first venture into fully electric vehicles working with Guinness and is a practical demonstration of how strategies and plans turn into real actions, with really good outcomes and consequences for society as a whole.
Commenting on the announcement, Hillary Quinn, Marketing Director of Diageo said "We are delighted to have worked with CPM to introduce the first zero emissions vehicles into our iconic quality fleet from this summer, driven by a team of dedicated and enthusiastic experts. We are committed to reducing out indirect emissions through this initiative and are determined and committed to play a key role for sustainable transport in the commercial sector in Ireland."
Commenting on the announcement, John Healy, General Manager of CPM Ireland said "We are absolutely thrilled to be part of this journey working with the wonderful team at Diageo. The team and our drivers are hugely dedicated to ensuring that consumers all around the country can enjoy beautiful great tasting pints of Guinness, knowing that Guinness is really playing its part in delivering sustainable transport in Ireland. It's a testament to the company and really underlines their commitment to delivering net zero carbon emissions across its direct operations and a reduction of indirect emissions by 50%, to benefit Irish society and life".