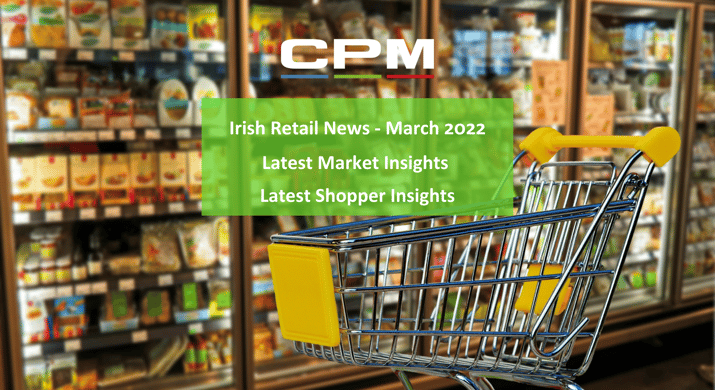 Welcome to CPM's monthly retail news roundup, Retail Intelligence. In these posts we will share some of the key highlights of the Irish retail industry and what this means for your business. With over 34 years of experience driving sales in the Irish market, at CPM we have a passion for retail and insights, so we hope you find this content useful. We would also love to hear what content you would like to see in the future so please feel free to contact us with any thoughts.
Britvic reports 16.5% revenue increase in first quarter
According to the soft drink maker's latest financial results, sales totalled €447.9 million (£373.9 million) in the quarter – a 14.0% increase on a reported basis, and 12.8% higher than the corresponding period prior to the pandemic.
Jameson achieves highest ever H1 volume in Irish Distillers' latest six-month results
Irish Distillers, producer of some of the world's most well-known Irish whiskeys, has reported results for the first half of its financial year (ending 31 December 2021). Jameson sold 5.8 million cases (+22%) in the first six months of the financial year to December 2021. This is the highest-ever H1 volume for Jameson.
Shoppers cross borders for cheap alcohol
Following the introduction of minimum unit pricing on 4 January in the Republic of Ireland, a number of media outlets have – in a consequence predicted by many within our industry – reported on shoppers heading north to secure bargains with their alcohol purchases.
72% of Irish consumers routinely consume protein products
Research conducted this month by Bounce Insights on behalf of Checkout reveals that 72% of Irish consumers claim to routinely consume protein products, both natural and packaged.
SuperValu Calls on Local Producers to Join Food Academy Programme 2022
SuperValu is calling on new and budding local Irish food and drink producers to join this year's Food Academy programme. Food Academy, which is run by SuperValu in conjunction with Bord Bia and the Local Enterprise Offices, gives start-up food and drink producers an opportunity to get their products on SuperValu shelves.
Dunnes Stores Retains Its Position as Ireland's Largest Grocer
Dunnes Stores has retained its position as Ireland's largest grocer this month, holding 23% of the market, research shows.
Sainsbury's Halts Sale of Products 100% Sourced from Russia
British supermarket group Sainsbury's has removed from sale all products that are 100% sourced from Russia in response to Russia's invasion of Ukraine.
M&S Suspends Shipments to Turkish Tranchisee's Russian Business
British food and clothing retailer Marks & Spencer has suspended shipments to its Turkish franchisee's Russian business following Russia's invasion of Ukraine, it said on Thursday.
Aldi Opens Its 150th Irish Store
Aldi Ireland announced the opening of its new store in Caherciveen, Co. Kerry, its 150th store in Ireland since entering the Irish market in 1999. The store represents an investment of over €5 million in the local area and is creating up to 20 permanent jobs with market-leading pay, the discounter noted.
Boots in Store For £8bn Sale as Bid Deadline Looms
Boots has set a 24 February deadline to receive indicative bids from a series of deep-pocketed investors that could value the 173-year-old firm at up to £8 billion ($10.88 billion), two sources told Reuters.
Inflation Eased To 5% In January For First Time In 14 Months
As reported in The Business Post, annual inflation eased back to 5 percent last month after a 20-year high in December, according to figures released today by the Central Statistics Office. Consumer prices in January decreased by 0.4 per cent month-on-month. This is the first monthly decrease following 14 months of rising prices.
Bord Bia Partners with Leading UAE Retailer to Promote Sustainable Irish Suppliers
Bord Bia has partnered with a leading premium retailer in the United Arab Emirates (UAE) – Spinneys – for a sustainability-themed promotion, to highlight Irish brands and their participation in Origin Green, Ireland's national food and drink sustainability programme.
Shoppers move to own label as price rises
Irish take home grocery sales fell by -4.5% over the 12 weeks from February 20, 2022 according to the latest figures from Kantar due to inflation over the past 12 weeks.
Lidl Eases Period Poverty with 80,000 free products
As the first major retailer in the world to commit to combatting period poverty by offering free sanitary products in stores nationwide, Lidl Ireland has announced that it donated 80,000 units between May and December of 2021.